Os
Mapping. Documentation | Varnish Community. Operational Intelligence Software. La puissance de la recherche, de l'analyse et des visualisations.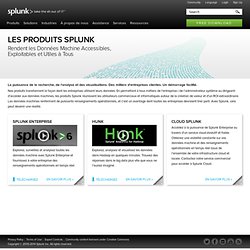 Des milliers d'entreprises clientes. Un démarrage facilité. Nos produits transforment la façon dont les entreprises utilisent leurs données. En permettant à tous métiers de l'entreprise—de l'administrateur système au dirigeant- d'accéder aux données machines, les produits Splunk réunissent les utilisateurs commerciaux et informatiques autour de la création de valeur et d'un ROI extraordinaire. Project Directory. Electronic Frontier Foundation | Defending your rights in the digital world.
We submitted the following comment to the US Trade Rep today regarding the proposed United States-European Union trade agreement.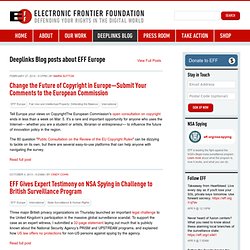 The Electronic Frontier Foundation (EFF) is a digital civil liberties organization that has defended technology users' rights for over 23 years. We primarily take the fight to court, but also engage in global advocacy campaigns and direct public action towards lawmakers to ensure digital policies uphold the public interest. We have over 18,000 active paying members worldwide. The EFF submits this document in response to the United States Trade Representative's solicitation for comment listed in the Federal Registry on April 1, 2013, regarding the coming negotiations over the US-EU trade agreement, now called the Transatlantic Trade and Investment Partnership (TTIP).
Bootstrap from Twitter. We are happy to announce Bootstrap, a front-end toolkit for rapidly developing web applications.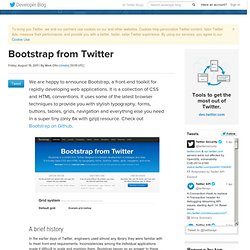 It is a collection of CSS and HTML conventions. It uses some of the latest browser techniques to provide you with stylish typography, forms, buttons, tables, grids, navigation and everything else you need in a super tiny (only 6k with gzip) resource. Check out Bootstrap on Github. A brief history. Scott Chacon on the Interwebs. Scott Chacon on the Interwebs.
Opengeo's Profile - GitHub. Code. The Code for America Summit is always a special occasion for me.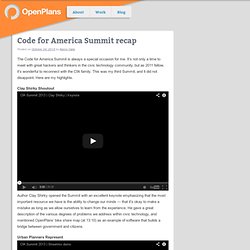 It's not only a time to meet with great hackers and thinkers in the civic technology community, but as 2011 fellow, it's wonderful to reconnect with the CfA family. This was my third Summit, and it did not disappoint. Here are my highlights. Clay Shirky Shoutout Author Clay Shirky opened the Summit with an excellent keynote emphasizing that the most important resource we have is the ability to change our minds — that it's okay to make a mistake as long as we allow ourselves to learn from the experience. He gave a great description of the various degrees of problems we address within civic technology, and mentioned OpenPlans' bike share map (at 13:10) as an example of software that builds a bridge between government and citizens. The iPortal. The Locker Project.
Linux. Open Dynamics Engine - home. CHAI 3D - Support. Mozilla Firefox. Logiciels | 6th Annual "Libre Graphics Meeting" 10-13 May 2011 - Montreal, Quebec.
---