Os
Documentation | Varnish Community
Splunk est le moteur des données machine. Utilisez Splunk pour collecter, indexer et exploiter les données machine en évolution rapide générées par vos applications, serveurs et périphériques -- physiques, virtuels et dans le cloud. Recherchez et analysez toutes vos données, en temps réel et historiques, en un point unique. Avec Splunk, vous pouvez diagnostiquer les problèmes d'application et examiner les incidents de sécurité en minutes plutôt qu'en heures ou en jours, éviter la dégradation ou l'interruption du service, assurer la conformité à moindre coût et obtenir de nouvelles perspectives informatiques ainsi que sur l'activité de l'entreprise. Téléchargez Splunk gratuitement et faites-en vous-même l'expérience.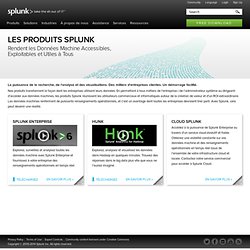 Operational Intelligence Software
Project Directory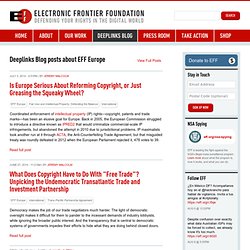 Electronic Frontier Foundation | Defending your rights in the digital world
We submitted the following comment to the US Trade Rep today regarding the proposed United States-European Union trade agreement. The Electronic Frontier Foundation (EFF) is a digital civil liberties organization that has defended technology users' rights for over 23 years. We primarily take the fight to court, but also engage in global advocacy campaigns and direct public action towards lawmakers to ensure digital policies uphold the public interest. We have over 18,000 active paying members worldwide. The EFF submits this document in response to the United States Trade Representative's solicitation for comment listed in the Federal Registry on April 1, 2013, regarding the coming negotiations over the US-EU trade agreement, now called the Transatlantic Trade and Investment Partnership (TTIP).
We are happy to announce Bootstrap, a front-end toolkit for rapidly developing web applications. It is a collection of CSS and HTML conventions. It uses some of the latest browser techniques to provide you with stylish typography, forms, buttons, tables, grids, navigation and everything else you need in a super tiny (only 6k with gzip) resource. Check out Bootstrap on Github.
Scott Chacon on the Interwebs
Scott Chacon on the Interwebs
opengeo's Profile - GitHub
Code
The Code for America Summit is always a special occasion for me. It's not only a time to meet with great hackers and thinkers in the civic technology community, but as 2011 fellow, it's wonderful to reconnect with the CfA family.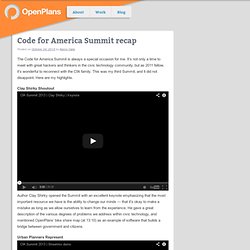 The iPortal
The Locker Project
Open Dynamics Engine - home
CHAI 3D - Support
Mozilla Firefox
Logiciels | 6th Annual "Libre Graphics Meeting" 10-13 May 2011 - Montreal, Quebec