Organiser
HP Z Workstations Help Revamp Company`s Personal Systems Group - Desktops and Notebooks. Alterinfonet.org Agence de presse associative. Hamish MacDonald - author & indie publisher. DIY Book - the indie publishing podcast. 印度贫民风餐露宿的流浪生活[18P] Download. Mac OSX(OSX 10.7 or higher, 32 and 64bit, ZIP, ~65 MB) Windows(XP, Vista, Win7, Win8, 32 and 64bit, 7z-SFX-EXE, ~39 MB / ZIP, ~51 MB) What's New?
See here the recent changes of the latest version: Test / Demo Limitations The krpano software can be downloaded and tested for free! Planning Mogade v2. Mogade.com is a free platform I wrote to help developers add some common features, like leaderboards, achievements and analytics to their games.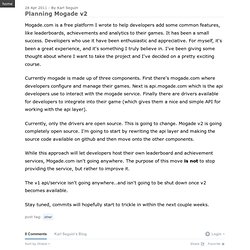 It has been a small success. Developers who use it have been enthusiastic and appreciative. Karl Seguin. MongoDB Interactive Tutorial. NoSQL Zone. Alec Noller The Best of the Week (Apr. 4): NoSQL Zone Make sure you didn't miss anything with this list of the Best of the Week in the NoSQL Zone.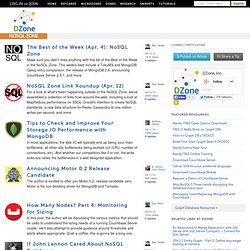 This week's best include a TokuMX and MongoDB Oplog entry comparison, the release of MongoDB 2.6, announcing Couchbase Server 2.5.1, and more. Giant Flying Saucer | Programming parlour tricks. Troubleshooting a problem with DevStack using source code from an OpenStack (Git) Review I recently had to troubleshoot a problem that was causing a DevStack VM (dsvm) check/gate to fail on the OpenStack incubator project Barbican.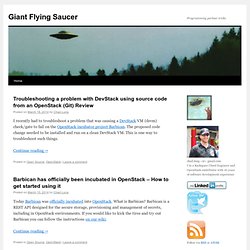 The proposed code change needed to be installed and run on a clean DevStack VM. JsLINB_AJAX_Builder -- jsLINB Examples. DresdenOCL:Screencasts. Here you can find a number of screencasts showing how to use Dresden OCL.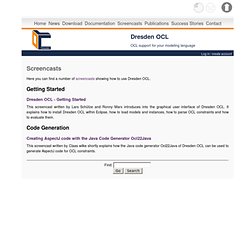 Getting Started Dresden OCL - Getting Started This screencast written by Lars Schütze and Ronny Marx introduces into the graphical user interface of Dresden OCL. It explains how to install Dresden OCL within Eclipse, how to load models and instances, how to parse OCL constraints and how to evaluate them. View Articles. I* Intentional STrategic Actor Relationships modelling - istar. The i* framework proposes an agent-oriented approach to requirements engineering centering on the intentional characteristics of the agent.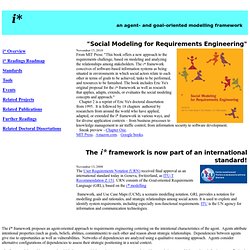 Agents attribute intentional properties (such as goals, beliefs, abilities, commitments) to each other and reason about strategic relationships. Dependencies between agents give rise to opportunities as well as vulnerabilities. Networks of dependencies are analyzed using a qualitative reasoning approach. OpenOME. The Organization Modelling Environment (OME) is a general, goal-oriented and/or agent-oriented modeling and analysis tool.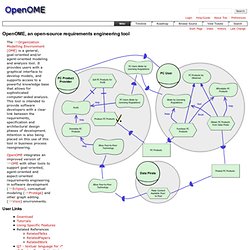 It provides users with a graphical interface to develop models, and supports access to a powerful knowledge base that allows for sophisticated computer-aided analysis. This tool is intended to provide software developers with a clear link between the requirements, specification and architectural design phases of development. Attention is also being placed on this use of this tool in business process reengineering. OpenOME integrates an improved version of OME with other tools to support goal-oriented, agent-oriented and aspect-oriented requirements engineering in software development ( Eclipse), conceptual modeling ( Protégé) and other graph editing ( Visio) environments. WikiWishList - what plugins should be available? GRL.
Matt Might. Applications, sites, logiciels.
Vidéos Pearltrees
Online Diagramming tool - Mindmap demo using Flowchart.com API. Gantter - web-based project scheduling made easy. Lens Culture FotoFest Paris 2011 FR. Lens Culture FotoFest Paris organise, durant trois jours, des lectures de portfolios et des rendez-vous individuels entre photographes et experts interna-tionaux du monde de la photographie.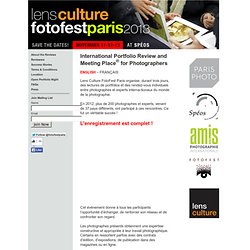 En 2012, plus de 200 photographes et experts, venant de 37 pays différents, ont participé à ces rencontres. Ce fut un véritable succès ! L'enregistrement est complet ! Cet événement donne à tous les participants l'opportunité d'échanger, de renforcer son réseau et de confronter son regard. DEVELOP Tube. The DEVELOP Tube Photography Video Channel is an educational resource which features interviews, multimedia, lectures & films in photojournalism, documentary & fine art photography.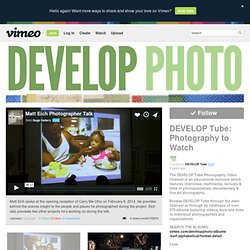 Browse DEVELOP Tube through the main Channel or through its catalogue of over 270 albums featuring videos, bios and links to individual photographers and organizations. SEARCH THE ALBUMS: vimeo.com/developphoto/albums/sort:alphabetical/format:detail Love Love us? Data visualization.
Ecriture
Infograhics. Reddit: the front page of the internet. Adam Laiacano. Muslims of France - Al Jazeera World. Projects. Melanie's Posters and Graphics - DignidadRebelde.com. "Tejiendo el amor y la justicia", by Melanie Cervantes, 11 X15 " 8-color, Hand printed, Screen print, Printed in San Leandro, 2014, Signed and numbered edition of 25 This print is an hommage to my friend, the late Sam Coronado.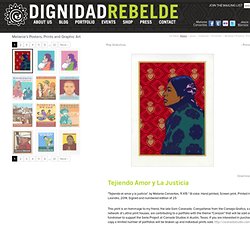 Compañeros from the Consejo Grafico, a national network of Latino print houses, are contributing to a portfolio with the theme "Corazon" that will be sold as a fundraiser to support the Serie Project at Cornado Studios in Austin, Texas. Blog - DignidadRebelde.com. 25 Years of American Cultures The American Cultures Center at UC Berkeley recently commissioned a poster to celebrate the 25th anniversary of the American Cultures requirement.
As part of the process of developing the piece I interviewed students, staff and faculty about the role the students have the opportunity to play, in serving their communities through an engaged praxis, via the American Cultures classes.
---