Organiser
HP Z Workstations Help Revamp Company`s Personal Systems Group - Desktops and Notebooks
Hamish MacDonald - author & indie publisher
DIY Book - the indie publishing podcast
印度贫民风餐露宿的流浪生活[18P]
Download
Linux(coming soon) Mac OSX(OSX 10.7 or higher, ZIP, ~49 MB) Windows(WinXP, Vista, Win7, Win8, SFX-EXE, ~40 MB) What's New? See here the recent changes of the latest version: Get the previous 1.16 version: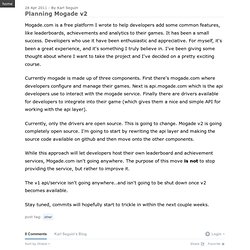 Mogade.com is a free platform I wrote to help developers add some common features, like leaderboards, achievements and analytics to their games. It has been a small success. Developers who use it have been enthusiastic and appreciative.
Planning Mogade v2
Karl Seguin
MongoDB Interactive Tutorial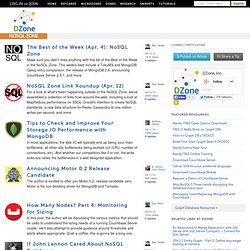 NoSQL Zone | DZone
Doug Turnbull SubRedis: Keyspaces in Redis The author has been using Redis extensively, but one thing that has stuck out as problematic is isolating and segmenting parts of an application with Redis. In this article, you'll learn about SubRedis, a simple Python keyspace wrapper around Redis.
Working with OpenStack Marconi (Message Queuing Service) with cURL and Python This article is a follow-up to my previous post Installing OpenStack Marconi (Message Queuing Service) on Ubuntu 12.04 LTS. With this article I'll show you some simple ways you can interact with Marconi.
Giant Flying Saucer | Programming parlour tricks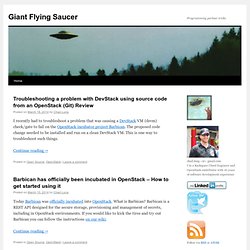 jsLINB_AJAX_Builder -- jsLINB Examples
DresdenOCL:Screencasts
Here you can find a number of screencasts showing how to use Dresden OCL. Getting Started Dresden OCL - Getting Started This screencast written by Lars Schütze and Ronny Marx introduces into the graphical user interface of Dresden OCL. It explains how to install Dresden OCL within Eclipse, how to load models and instances, how to parse OCL constraints and how to evaluate them.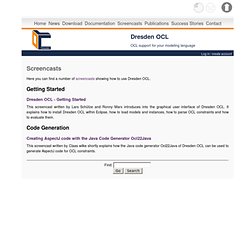 View Articles
i* Intentional STrategic Actor Relationships modelling - istar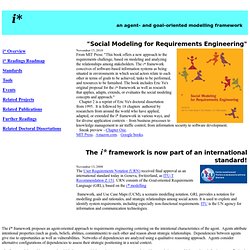 The i* framework proposes an agent-oriented approach to requirements engineering centering on the intentional characteristics of the agent. Agents attribute intentional properties (such as goals, beliefs, abilities, commitments) to each other and reason about strategic relationships. Dependencies between agents give rise to opportunities as well as vulnerabilities. Networks of dependencies are analyzed using a qualitative reasoning approach.
The Organization Modelling Environment (OME) is a general, goal-oriented and/or agent-oriented modeling and analysis tool. It provides users with a graphical interface to develop models, and supports access to a powerful knowledge base that allows for sophisticated computer-aided analysis. This tool is intended to provide software developers with a clear link between the requirements, specification and architectural design phases of development. Attention is also being placed on this use of this tool in business process reengineering. OpenOME integrates an improved version of OME with other tools to support goal-oriented, agent-oriented and aspect-oriented requirements engineering in software development ( Eclipse), conceptual modeling ( Protégé) and other graph editing ( Visio) environments. WikiWishList - what plugins should be available?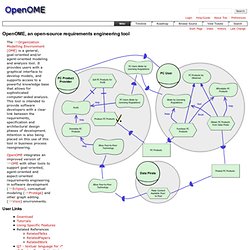 OpenOME
GRL
Matt Might
Online Diagramming tool - Mindmap demo using Flowchart.com API.
Lens Culture FotoFest Paris organise, durant trois jours, des lectures de portfolios et des rendez-vous individuels entre photographes et experts interna-tionaux du monde de la photographie. En 2012, plus de 200 photographes et experts, venant de 37 pays différents, ont participé à ces rencontres. Ce fut un véritable succès ! L'enregistrement est complet ! Cet événement donne à tous les participants l'opportunité d'échanger, de renforcer son réseau et de confronter son regard.
Lens Culture FotoFest Paris 2011 FR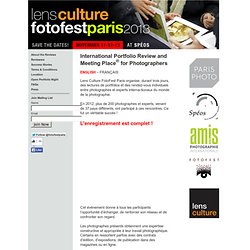 DEVELOP Tube on Vimeo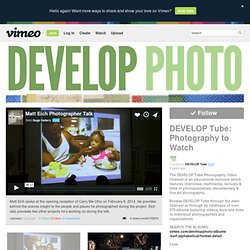 The DEVELOP Tube Photography Video Channel is an educational resource which features interviews, multimedia, lectures & films in photojournalism, documentary & fine art photography. Browse DEVELOP Tube through the main Channel or through its catalogue of over 270 albums featuring videos, bios and links to individual photographers and organizations. SEARCH THE ALBUMS: vimeo.com/developphoto/albums/sort:alphabetical/format:detail Love Love us?
Adam Laiacano
Projects
Melanie's Posters and Graphics - DignidadRebelde.com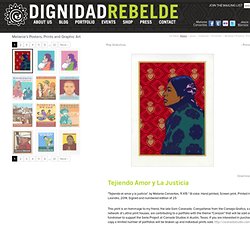 "Heart to Heart" , Melanie Cervantes, 10" x 13", 4-Color handmade screenprint, Coventry Rag Archival Paper, Printed in San Leandro, 2013 For two decades Rini Templeton made "drawings of activists in the United States, Mexico and Central America while she joined them in their meetings, demonstrations, picket lines and other actions for social justice." Rini has been a huge inspiration to me for both the beauty of her aesthetics and style and for her unwavering commitment to social movements.
Blog - DignidadRebelde.com
Dignidad Rebelde...Abolitionist Artists The Abolitionist, a newspaper publication dedicated to the strategy and practice of prison industrial complex abolition has transcribed a presentation I did on Dignidad Rebelde and our work supporting social movement organizations with creative visual interventions. I am honored these words will be shared with over 2,500 in people in jails, prisons and detention centers.