Musics
(5:51) Hearts A Mess - Gotye. The Mutopia Project. LilyPond – la notation musicale pour tous: LilyPond... la notation musicale pour tous. SoundCloud - Share Your Sounds. Mashup Breakdown Blog - Home. Mashup Breakdown Blog - Home. Unfortunately, after substantial discussion , the Wikipedia editor community seems to have settled on the result (if not the consensus) that Wikipedia is not the right place for the crowd-sourced list and timing of samples in All Day and other mashup albums (e.g.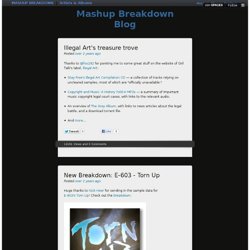 Feed the Animals ). Fortunately, Wikipedia keeps all prior versions of its pages (and I've stashed my own copy as well) so we still have the All Day sample data from Dec. 9 and Feed the Animals sample data from Dec. 8. I have, however, taken down the option to pull data from the live Wikipedia site for the time being, since we can't rely on the data being there. So, where do we go from here? Illegal Art. Illegal Art. The Keystone Cutups - DVD People Like Us & Ergo Phizmiz - Moon "This work explores the relationships between early silent-comedy and early avant-garde cinema.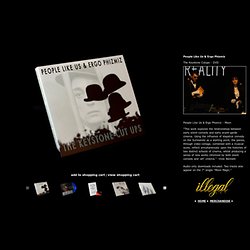 Using the influence of slapstick comedy on the Surrealists as a starting point, the pieces, through video-collage, combined with a musical score, reflect simultaneously upon the histories of two distinct schools of cinema, whilst producing a series of new works informed by both silent comedy and 'art' cinema. "
---