Medias
About | crowdflow.net
Crowdflow started in April 2011 after it was revealed that iPhones collect and store their location data. We have since collected and analyzed the log files of almost 1.500 iPhones and iPads and created an open database of wifi and cell networks. We also visualized how these networks are distributed all over the world. How Crowdflow started After the tracking and collection of location data was revealed, Michael Kreil used the data stored in his iPhone and created the first heatmap. He then created a second heatmap with the information from the consolidated.db-files Bastian Greshake published.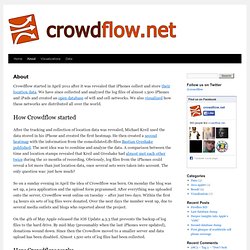 Galleria has been serving top-quality image galleries to millions of web sites during the last years. We coulnd't be happier with all the positive response we recieved. Now, we are about to launch the next generation gallery service that makes it even easier for anyone to create, administrate and publish beautiful image galleries on any web site. We call it Galleria Display. We are now accepting a limited number of beta testers for our new service. In order to join us and get a free account, simply enter your email at galleriadisplay.com and we'll put you on our list.
Interactive Media Center - University Library - University at Albany Home Page
The Interactive Media Center of the University Library supports the creation of multimedia projects and the digital design of presentations, publications and Web sites. This is the only place on campus to accomplish activities such as assisted Web design, digital recording and editing, sophisticated image editing, creation of PDF files, and the use of analog to digital audio and video for research, instruction, publication and student activities. Free Classes in Spring Semester! We are planning our free classes for the Spring Semester right now! Expect to see the list posted sometime in the last half of December. The time and places of these class will be here - IMC List of Free Classes.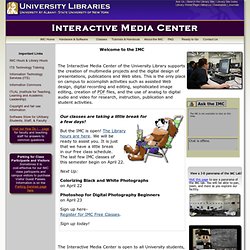 http://zappiti.ekioo.com
Last week we brought you 588 Free Film Contracts and Forms. In a effort to continue our "indie stimulus plan," this week we've gathered together 111 free filmmaking software programs. Keep an eye out of upcoming features highlighting even more free stuff.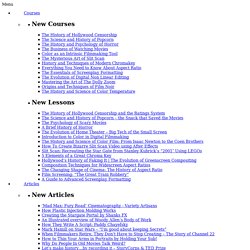 Interview With Khajag Apelian"Type Design Is Not Only About Drawing Letters" Having started his career studying under some of the best typographic minds in the world, Khajag Apelian not only is a talented type and graphic designer, unsurprisingly, but also counts Disney as a client, as well as a number of local and not-for-profit organizations throughout the Middle East. Even more impressive is Khajag's willingness to take on work that most people would find too challenging. Designing a quality typeface is a daunting task when it's only in the Latin alphabet. Khajag goes deeper still, having designed a Latin-Armenian dual-script typeface in four weights, named "Arek", as well as an Arabic adaptation of Typotheque's Fedra Display.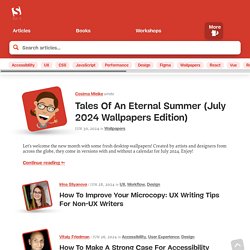 Here is the online application for cutting music. It allows you to effortlessly cut out a desired musical fragment from an MP3 file or a file in other formats, in order, for example to set it up as a customized ringtone for your mobile phone. Our web application is free; it was designed for a single purpose, which makes it easy to use unlike complicated professional audio editors: Just open the file (audio or video)Adjust the interval and click "Cut"Save the track on your computer's hard drive Detailed instructions on how to cut a song. Cut MP3 Instantly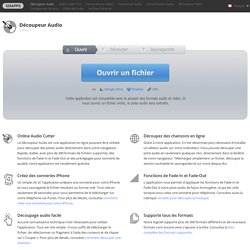 CFP: Digitize This: Exploring/Exploiting the Rise of Digital Arts & Digital Humanities
CFP: Digitize This: Exploring/Exploiting the Rise of Digital Arts & Digital HumanitiesWorcester Polytechnic InstituteNovember 2-3, 2012. Instances from and reflections on the dual rise of the digital humanities and the digital arts: to include panels, workshops, and roundtables as well as the performance and presentation of literary, musical, and visual works. Proposals accepted singly or as pre-organized panels. Topics might include but are not limited to: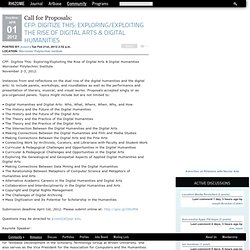 DIY - Objets Digitaux - Fab Lab
University of St.Gallen | The MCM Institute