Exotic
Cinder | The library for professional-quality creative coding in C++ DSM Examples. MetaEdit+ and DSM resources. Index [NekoVM] Dart : Structured web programming. Lambda the Ultimate | Programming Languages Weblog. Closure-library - Closure Library. The Closure Library is a broad, well-tested, modular, and cross-browser JavaScript library.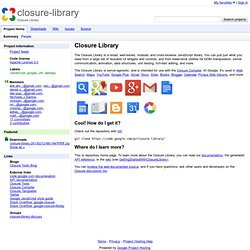 You can pull just what you need from a large set of reusable UI widgets and controls, and from lower-level utilities for DOM manipulation, server communication, animation, data structures, unit testing, rich-text editing, and more. The Closure Library is server-agnostic, and is intended for use with the Closure Compiler. At Google, it's used in Web Search, Maps, YouTube, Google Plus, Gmail, Docs, Sites, Books, Blogger, Calendar, Picasa Web Albums, and more.
Downloads. Stable Release: 1.6.0 Clojure 1.6.0 Clojure Source.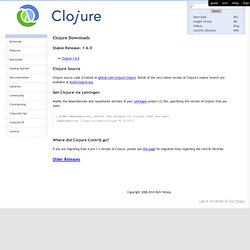 Accessibilité. The Programming Language Lua.
---