Securities
OdeToCode/Memflex. Always set the "applicationName" property when configuring ASP.NET 2.0 Membership and other Providers. I helped out a few folks last night on the ASP.NET Forums with this problem, so I thought it might make sense to turn this into a blog post to help share information about this.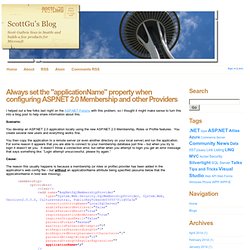 Scenario: You develop an ASP.NET 2.0 application locally using the new ASP.NET 2.0 Membership, Roles or Profile features. You create several new users and everything works fine. You then copy the application to a remote server (or even another directory on your local server) and run the application. 2.0 Membership, Roles, Forms Authentication, and Security Resources. I usually try and spend at least an hour or two each night hanging out on the ASP.NET Forums answering questions.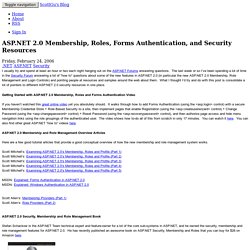 The last week or so I've been spending a lot of time in the Security Forum answering a lot of "how to" questions about some of the new features in ASP.NET 2.0 (in particular the new ASP.NET 2.0 Membership, Role Management and Login Controls) and pointing people at resources and samples around the web about them. What I thought I'd try and do with this post is consolidate a lot of pointers to different ASP.NET 2.0 security resources in one place. Getting Started with ASP.NET 2.0 Membership, Roles and Forms Authentication Video If you haven't watched this great online video yet you absolutely should.
SimpleMembership, Membership Providers, Universal Providers and the new ASP.NET 4.5 Web Forms and ASP.NET MVC 4 templates - Jon Galloway. SimpleMembership, Membership Providers, Universal Providers and the new ASP.NET 4.5 Web Forms and ASP.NET MVC 4 templates The ASP.NET MVC 4 Internet template adds some new, very useful features which are built on top of SimpleMembership.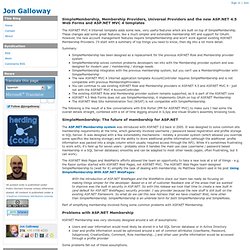 These changes add some great features, like a much simpler and extensible membership API and support for OAuth. However, the new account management features require SimpleMembership and won't work against existing ASP.NET Membership Providers. I'll start with a summary of top things you need to know, then dig into a lot more detail. Summary: Including Asp.net Simple Membership Tables as Part of Your Entity Framework Model | Spontaneous Publicity. Simple Membership is a membership system originally created for Web Matrix but is now being used by some of the Asp.Net project templates.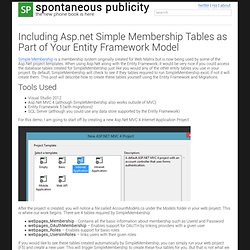 When using Asp.Net along with the Entity Framework, it would be very nice if you could access the database tables created for SimpleMembership just like you would any of the other entity tables you use in your project. By default, SimpleMembership will check to see if they tables required to run SimpleMembership exist, if not it will create them. This post will describe how to create these tables yourself using the Entity Framework and Migrations. Tools Used. Examining ASP.NET's Membership, Roles, and Profile - Part 1. By Scott Mitchell Introduction There's one thing messageboard websites, eCommerce websites, social network websites, and portal websites share in common: they all provide user accounts.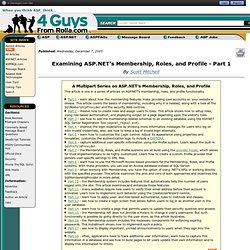 THE most basic way to implement ASP.NET Razor security - mike's web log. If you look at the ASP.NET Web Pages (aka Razor) tutorials on the ASP.NET web site, there's a chapter devoted to adding security to a site in the form of membership (that is, a login capability).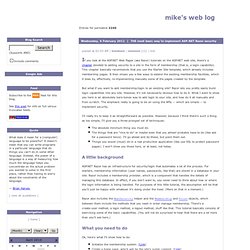 This chapter basically recommends that you use the Starter Site template, which already includes membership pages. It then shows you a few ways to extend the existing membership facilities, which it does by, effectively, re-implementing manually some of the pages created by the template. But what if you want to add membership/login to an existing site? Rolling Your Own Website Administration Tool - Part 1. By Dan Clem Introduction Forms-based authentication combined with ASP.NET 2.0's Membership and Roles systems makes creating and managing user accounts incredibly easy.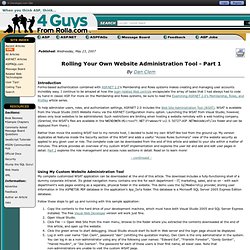 I continue to be amazed at how the login-related Web controls encapsulate the array of tasks that I had always had to code by hand in classic ASP. For more on the Membership and Roles systems, be sure to read the Examining ASP.NET 2.0's Membership, Roles, and Profiles article series.
---