Interesting Articles
UK riots: Big Brother isn't watching you | UK news. I no longer live in London.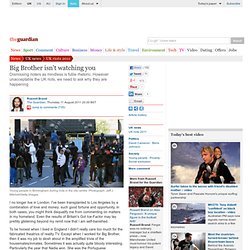 I've been transplanted to Los Angeles by a combination of love and money; such good fortune and opportunity, in both cases, you might think disqualify me from commenting on matters in my homeland. Even the results of Britain's Got Ice-Factor may lay prettily glistening beyond my remit now that I am self-banished. To be honest when I lived in England I didn't really care too much for the fabricated theatrics of reality TV. Except when I worked for Big Brother, then it was my job to slosh about in the amplified trivia of the housemates/inmates. Sometimes it was actually quite bloody interesting. Gamers solve molecular puzzle that baffled scientists.
MSNBC's Thomas Roberts talks with University of Washington Center for Game Science director Seth Cooper and researcher Firas Khatib about a video game that helped unravel a protein structure in an AIDS-like virus.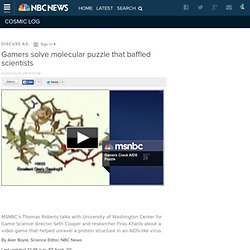 By Alan Boyle, Science Editor, NBC News Last updated 12:45 p.m. ET Sept. 20: Video-game players have solved a molecular puzzle that stumped scientists for years, and those scientists say the accomplishment could point the way to crowdsourced cures for AIDS and other diseases. The rich are different — and not in a good way, studies suggest - Health - Behavior. Psychologist and social scientist Dacher Keltner says the rich really are different, and not in a good way: Their life experience makes them less empathetic, less altruistic, and generally more selfish.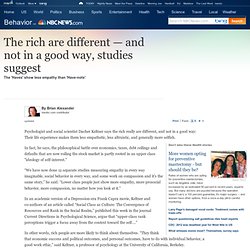 In fact, he says, the philosophical battle over economics, taxes, debt ceilings and defaults that are now roiling the stock market is partly rooted in an upper class "ideology of self-interest. " "We have now done 12 separate studies measuring empathy in every way imaginable, social behavior in every way, and some work on compassion and it's the same story," he said. "Lower class people just show more empathy, more prosocial behavior, more compassion, no matter how you look at it."
Are jobs obsolete? Douglas Rushkoff: U.S.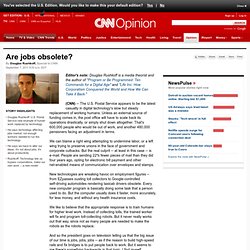 Postal Service new example of human work replaced by technologyHe says technology affecting jobs market; not enough workers needed to run the technologyHe says we have to alter our ideas: It's not about jobs, it's about productivityRushkoff: Technology lets us bypass corporations, make our own work -- a new model Editor's note: Douglas Rushkoff is a media theorist and the author of "Program or Be Programmed: Ten Commands for a Digital Age" and "Life Inc: How Corporatism Conquered the World and How We Can Take it Back.
" (CNN) -- The U.S. Postal Service appears to be the latest casualty in digital technology's slow but steady replacement of working humans.
---