Interesting Articles
UK riots: Big Brother isn't watching you | UK news
I no longer live in London.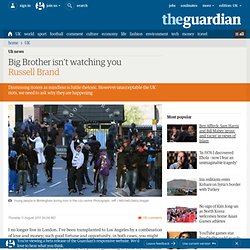 MSNBC's Thomas Roberts talks with University of Washington Center for Game Science director Seth Cooper and researcher Firas Khatib about a video game that helped unravel a protein structure in an AIDS-like virus.
Gamers solve molecular puzzle that baffled scientists
Psychologist and social scientist Dacher Keltner says the rich really are different, and not in a good way: Their life experience makes them less empathetic, less altruistic, and generally more selfish. In fact, he says, the philosophical battle over economics, taxes, debt ceilings and defaults that are now roiling the stock market is partly rooted in an upper class "ideology of self-interest."
The rich are different — and not in a good way, studies suggest - Health - Behavior
Douglas Rushkoff: U.S.