Interesting Articles
UK riots: Big Brother isn't watching you | UK news
I no longer live in London. I've been transplanted to Los Angeles by a combination of love and money; such good fortune and opportunity, in both cases, you might think disqualify me from commenting on matters in my homeland.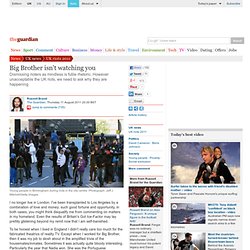 participation Alan Boyle, Science Editor, NBC News Sep. 18, 2011 at 1:00 PM ET
Gamers solve molecular puzzle that baffled scientists
Psychologist and social scientist Dacher Keltner says the rich really are different, and not in a good way: Their life experience makes them less empathetic, less altruistic, and generally more selfish.
The rich are different — and not in a good way, studies suggest - Health - Behavior
Douglas Rushkoff: U.S.