Impact Investing
Omidyar Network | ON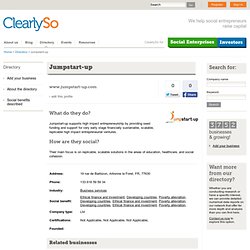 www.jumpstart-up.com What do they do? Jumpstart-up supports high impact entrepreneurship by providing seed funding and support for very early stage financially sustainable, scalable, replicable high impact entrepreneurial ventures. How are they social? Their main focus is on replicable, scalable solutions in the areas of education, healthcare, and social cohesion.
Social Business: Jumpstart-up
GIIN Publishes Second IRIS Data Brief The GIIN has published IRIS Data Brief: Focus on Beneficiaries, the second in a series that presents aggregated social, environmental, and financial results of organizations receiving impact investment capital. This Data Brief includes a focused set of analyses related to beneficiaries, specifically clients and suppliers. GIIN Seminar on Raising Impact Investment Capital On April 8 in Mumbai, India, the GIIN is hosting a seminar on how to effectively raise capital as an impact investment fund. Register today to learn how to avoid the common pitfalls most often preventing new funds from securing LP investment. An interactive learning experience with active peer engagement, the seminar will include live pitch practice with an LP panel and a case discussion with a GP who has raised multiple impact funds.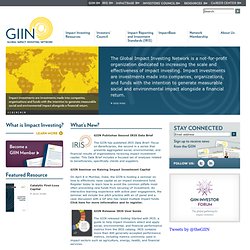 Global Impact Investing Network
Investing for Good | investments that inspire
Marmanie ~ Impact Investing & Advisory
Changing the way the world tackles poverty Our mission is to change the way the world tackles poverty by investing in companies, leaders, and ideas. We started Acumen to change the way the world tackles poverty; to influence traditional charity by moving from a top-down approach toward one that's bottom-up: approaching low-income people as part of the solution, seeing investment as an important tool for change, and insisting on stronger metrics of accountability. Today, there is a vibrant and growing "impact investing" sector with hundreds of funds and billions of dollars being invested in companies tackling some of the biggest social issues of our time. Along the way, we also discovered that without the right talent, these companies fail.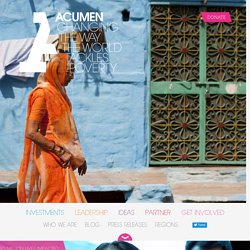 Calvert Foundation
Global Alliance - For Banking on Values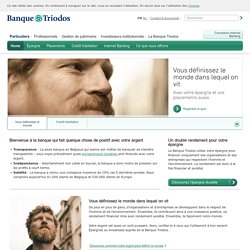 Une vision très large du secteur social : activité marchande ou non-marchande, asbl, entreprise ou coopérative. Nous valorisons les initiatives privées ou collectives qui ont comme finalité première la création de plus-value sociale. Social Profit Parce que nous pensons que la croissance ne peut plus se faire au détriment de l'environnement, nous finançons des projets qui proposent des solutions durables et renouvellent nos modes de vie et de consommation. Plus sur l'energie et le climat Nous pensons que l'épanouissement par les arts et la culture, l'éducation et la formation pour tous, le droit à la santé et à une vieillesse digne et entourée sont des droits fondamentaux.
Triodos
xigi.net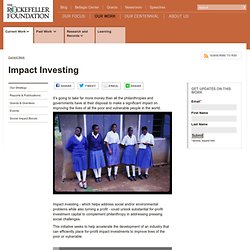 Harnessing the Power of Impact Investing :: The Rockefeller Foun
It's going to take far more money than all the philanthropies and governments have at their disposal to make a significant impact on improving the lives of all the poor and vulnerable people in the world. Impact investing - which helps address social and/or environmental problems while also turning a profit - could unlock substantial for-profit investment capital to complement philanthropy in addressing pressing social challenges. This initiative seeks to help accelerate the development of an industry that can efficiently place for-profit impact investments to improve lives of the poor or vulnerable. All Posts in Impact Investing
Aspen Network of Development Entrepreneurs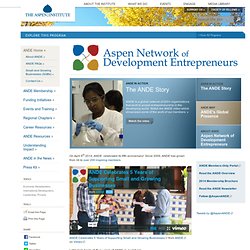 ANDE published in "Innovations" by MIT PressThe Aspen Network of Development Entrepreneurs (ANDE) believes there is a pressing need for a more holistic, evidence-based approach to leveraging the potential of incubators and accelerators and to understanding what makes them successful. These articles published in "innovations" by MIT Press, highlights the state of research on incubators and accelerators and outlines what further research is required.For more information, please click here Entrepreneurial Ecosystem Diagnostic Toolkit
danone.communities est un incubateur de « social businesses ». Notre mission est de financer et de développer des entreprises locales, avec un modèle économique pérenne, tournées vers des objectifs sociaux : faire reculer la pauvreté et la malnutrition. Au côté d'entrepreneurs sociaux, ce soutien passe à la fois par de l'investissement, via une SICAV grand public , mais aussi par un accompagnement technique grâce à un réseau d'experts engagés qui transmettent leurs expériences. Au-delà de ses projets, nous souhaitons partager nos enseignements pour inspirer d'autres initiatives individuelles et collectives au service d'une société plus solidaire. Nous sommes aujourd'hui présents dans 6 pays. Vous pouvez découvrir ces projets via notre carte ci-dessous et dans notre espace projet.