Webdesign
A friend once asked " why do you still surf for web templates when you can create one? ". I answered, for fun . But then again I start to ponder and realiazed even if we are capable to create, there are still many great reasons to check out free templates out there.
38 Free Elegant XHTML/CSS Website Templates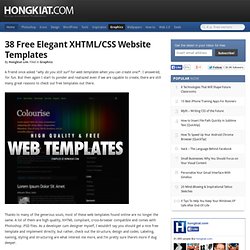 Free Website templates CSS Templates | WordPress Themes Free CSS templates in this section are tableless, W3C-compliant web design layouts designed by Template World designers. These free website templates have been tested and proven compatible with all major browser environments and operating systems.
In this tutorial, we'll be using JQuery to take a horizontally scrolling website and add a parallax scrolling background effect reminiscent of old-school 2D platform games like Sonic the Hedgehog. Tutorial Details Last year, the Silverback App site , designed by Carsonified , created some chatter amongst the design community for its clever use of a parallax scrolling effect seen when resizing the browser window. Like in old 2D platformers like Sonic the Hedgehog, this parallax effect could really come into its own alongside some horizontally scrolling content. This can be easily achieved using a little jQuery magic!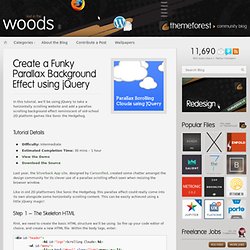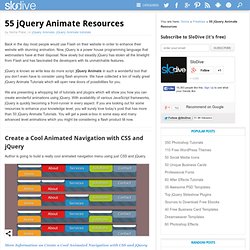 Gone are the days when every beautiful animation on a website was considered to be born out of Flash. Now slowly but steadily jQuery has stolen all the limelight from Flash and has fascinated the developers with its unmatchable features. jQuery is known as write less do more script. jQuery Animate in such a wonderful manner that you hardly think about opting out for heavy flash websites. We have collected really invigorated jQuery Animate Tutorials which will open new doors of possibilities for you.
Navigation is an extremely important part of your website.
30 CSS Menu Tutorials to Build Attractive Menus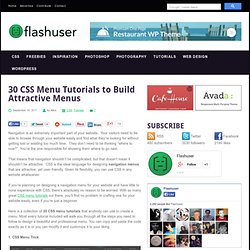 15 Good Sample JQuery and CSS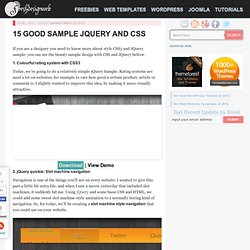 If you are a designer you need to know more about style CSS3 and JQuery sample. you can see the beauty sample design with CSS and JQuery bellow.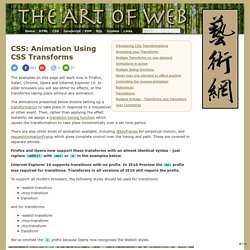 The examples on this page will work properly in Safari, Chrome and Opera. In Firefox prior to version 4 you will see the transforms, but without any animation. Transformation effects also work now in Internet Explorer 9 using the -ms- vendor prefix. The implementation of animation in CSS involves setting up a transformation to take place in response to a mouseover or other event. Then, rather than applying the effect instantly, we assign a transition timing function which applies the transformation/s over a set time period.
In this showcasing, there are 45 beautiful jquery menu plugins with example code for download and tutorials. In fact, menu is useful navigation link that you will see on every websites, it is an important part of website to show visitor about your website purpose and also easy for user to find information on the website. All those jquery plugin menu types such as jquery slide menu, jquery vertical menu, jquery menu dropdown, jquery context menu, jquery sliding menu, jquery tree menu, jquery menu button, jquery top menu, jquery menus, jquery menu bar, jquery floating menu, jquery accordion menu, jquery horizontal menu, jquery expanding menu, jquery hover menu, jquery popup menu…etc. You may like this post: jQuery Mouseover Effect Example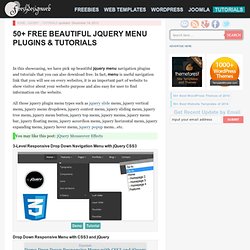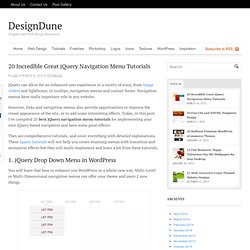 jQuery can allow for an enhanced user experience in a variety of ways, from image sliders and lightboxes, to tooltips, navigation menus and contact forms.
20 Incredible Great jQuery Navigation Menu Tutorials | DesignDune
Here at Design Shack we love a good navigation menu.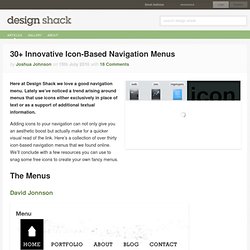 30+ Innovative Icon-Based Navigation Menus
10 incredible JQuery navigation menus
Animated Drop Down menu with JQuery A DropDrown menu is often a good choice when you have many items to display. In such cases, what about animating it?
Aug 23 2011 Navigation is such an important part of your website. It's how your visitors navigate to the main areas of your site and makes it easy for them to find your good content. CSS is of course the perfect language for designing beautiful navigation menus. It can be applied to any type of website and is very flexible. Don't be alarmed if your own CSS skills are fairly limited as there are a lot of great tutorials out there that walk you through how to add clean and professional looking CSS menus to your website.
In this tutorial we will create a unique sliding box navigation. The idea is to make a box with the menu item slide out, while a thumbnail pops up. We will also include a submenu box with further links for some of the menu items.
I have always thought that imagemenu sliding effect is really cool and that it would be nice if it worked with jQuery. Introducing a Mootools image menu ported to Jquery. If you have ever seen the image menu javascript for mootools by phatfusion and liked what you saw well here is a Sliding Image Menu alternative I've come up with using the power of jquery javascript. Functionality Checklist for our Sliding Image Menu for Jquery. Here is what we need our Jquery horizontal sliding image menu to do:
Image Menu with Jquery - Design Tips & Techniques - Maui Blog
Ever seen some excellent jQuery navigation that left you wanting to make one of your own? Today we'll aim to do just that by building a menu and animate it with some smooth effects. The Goal – One Smooth Menu Here's a demo of what we'll end up with by the end. Introduction – An explanation of easing The menu has such a smooth animation because of a thing called "easing".