Animals
Cute Puppy ;)
Cheetah Lift
Dogs That Look Like Pandas
EgoTV Dogs That Look Like Pandas digg July 8, 2011 at 3:00 pm There's an emerging trend in China and Japan right now, wherein people create dogs that look like pandas by dying their pets' fur in a recognizable panda bear pattern. It's good to know that, with all the Tsunami/Earthquake/Leaked radiation clean up that's going on in Japan right now, and with all the overpopulation/pollution/manufacturing of poisonous toys in China right now, people still have the time and resources to invest in making their dogs look like other animals. Nonetheless, some of these Panda Dogs look pretty convincing, and I'm excited to see this trend extended to other species. Kangaroo Dogs, Iguana Dogs, Giraffe Dogs, Zebra Dogs…I want to see them all!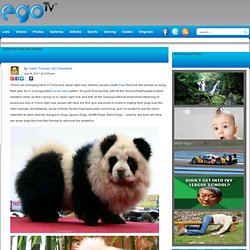 Huskita Picture
Impressive Chameleon Video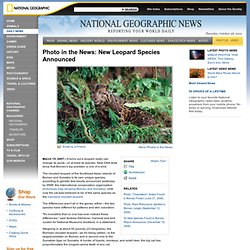 New Leopard Species Announced
March 15, 2007—It turns out a leopard really can change its spots—or at least its species. New DNA tests show that Borneo's top predator is one of a kind. The clouded leopard of the Southeast Asian islands of Borneo and Sumatra is its own unique species, according to genetic test results announced yesterday by WWF, the international conservation organization (Indonesia map showing Borneo and Sumatra). Until now the cat was believed to be of the same species as the mainland clouded leopard.