Graphic Design
70 Awesome Open Source Tools for Graphic Designers. No longer limited to freehand logos, graphic design is a booming field.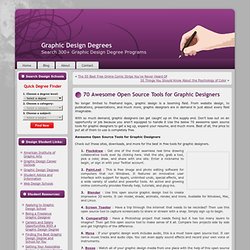 From website design, to publications, presentations, and much more, graphic designers are in demand in just about every field imaginable. With so much demand, graphic designers can get caught up on the supply end. Information on Illustrating Children's Books. Graphic/Web Design. 20 Creative Resume Designs Which Will Amaze Any Potential Employer. InspirationBy TimothyBlake · On March 21, 2011 A great showcase design post of some truly creative and inspiration CV designs which im sure would blow away any potential employer.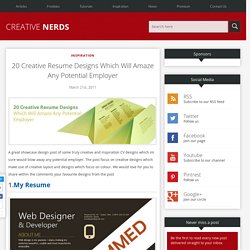 The post focus on creative designs which make use of creative layout and designs which focus on colour. We would love for you to share within the comments your favourite designs from the post 1.My Resume. A guide to typography (Infographic) | check it out! 72 Creative And Smart Typographic Logo Inspiration. If we are starting to go crazy in typography style, then let's continue with typographic and smart logo designs, shall we?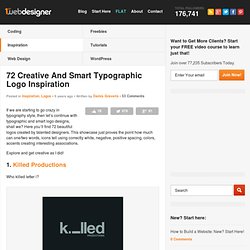 Here you'll find 72 beautiful logos created by talented designers. This showcase just proves the point how much can one/two words, icons tell using correctly white, negative, positive spacing, colors, accents creating interesting associations. Explore and get creative as I did! 1. Killed Productions.
---