E-LEARNING
Visual thinking is about using pictures to help you solve problems, think about complex issues and communicate more effectively. Are you ready to work on your visual thinking skills? You don't have to be an artist. This site is different every time you visit: it's continuously updated via live feeds from the web to bring you the best and most delicious images and links available: visuals to inspire, examples to follow, books to read and things to do, designed to stimulate your imagination and visual thinking.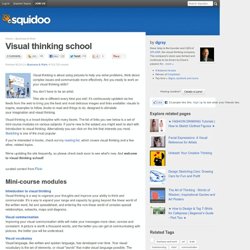 Written by Steve O'Hear and edited by Richard MacManus. This is a two-part series in which Steve will explore how Web technologies are being used in education. In Part 2 he will profile Elgg , social network software for education, and interview its founders.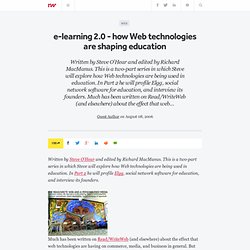 e-learning 2.0 - how Web technologies are shaping education
eLearning | Transforming education through technology
"La courbe de l'oubli" de François Guité
La dernière fois, je vous avais parlé de la déprimante courbe de l'oubli , pour mieux introduire la méthode de la répétition espacée (Spaced Repetition System).
Le Système de Répétition Espacée : Mémoriser et ne jamais oublier | MosaLingua : Application pour apprendre rapidement l'espagnol et l'anglais sur téléphone mobile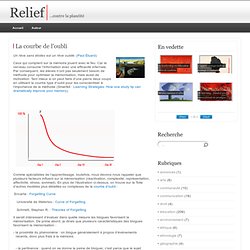 Un rêve sans étoiles est un rêve oublié. ( Paul Éluard )
La courbe de l'oubli 
IPSYS Formation - Créer un blog pédagogique | IPSYS Conseil & Formation, Ingénierie de formation et pilotage de projets d'innovations pédagogiques
Brigitte Vandal Pour la Vitrine Technologie-Éducation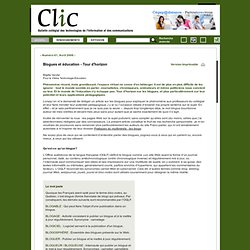 Tour Overview
outils multimedia de création
Éducation 2.0 | Organisation 2.0 | de Geoffroi Garon » Formation
: Assigning the return value of new by reference is deprecated in on line
Produire un cours en formation à distance implique la mise en place et le respect d'un processus rigoureux qui fait appel à une équipe de spécialistes aux compétences multiples. Sensible à cette réalité, la Faculté de l'éducation permanente de l'Université de Montréal, véritable producteur de cours en formation à distance, a mis en place une démarche maintes fois éprouvée. De la planification à la mise en marché en passant par l'édition, plusieurs étapes doivent être franchies. Ce site présente le processus de production sous toutes ses facettes, et ce, quels que soient les médias exploités.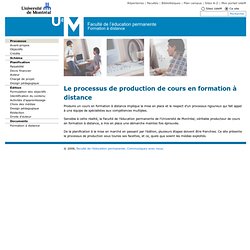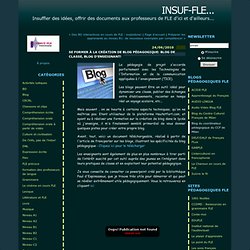 La pédagogie de projet s'accorde parfaitement avec les Technologies de l'Information et de la communication appliquées à l'enseignement (TICE).
Se former à la création de blog pédagogique: blog de classe, blog d'enseignant!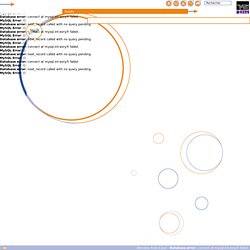 Historique La mission première de la cellule TICE de TELECOM & Management Sudparis -ex INT- étant d'accompagner les enseignants dans leur apprentissage et leur usage des TICE , nous avons conçu la version 1 de ce guide en 2001 en nous basant sur les technologies du web. Celles-ci ayant évolué depuis et notre expérience aussi, une nouvelle version (V2) nous est apparue opportune.