Quilting
Disney princess quilt | Shop disney princess quilt sales. Disney Princesses Patchwork Baby Quilt, Nine Patch Patchwork in Pinks, Blue and Yellow.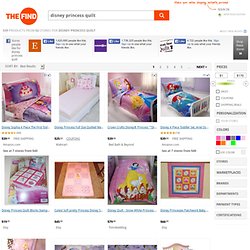 Patchwork baby quilt just perfect for any little Princess. Nine large Patchwork Squares, five inches square each, in shades of pink, yellow, blue and white. Five of the blocks have a center patch ON Point with one of the Disney Princesses in pinks, blue and yellow gowns, with pink triangles and a yellow border. The remaining four blocks are traditional nine patch blocks in yellow, white, blue and a floral print, with a pink border.
More flag blocks + Olympic fever. Anyone else out there an Olympic junkie?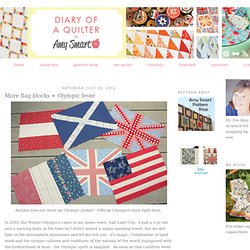 Official Olympics nerd right here. In 2002 the Winter Olympics came to my home town, Salt Lake City. Quilting_guide. Using a Rotary Cutter. Diary of a Quilter - a quilt blog. DIY "Pillowcase" Baby Dress Pattern. "Pillowcase" dresses are popular because they are so simple to make, the measurements aren't super important, and they can grow with baby from a dress into a top.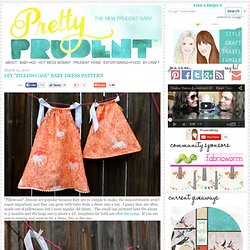 I guess they are often made out of pillowcases but I used regular old fabric. The small one pictured here fits about 0-3 months and the large one is about a 2T, templates for both are after the jump. If you are new to sewing and want to try a dress, this is the one. Yoga Skirt Tutorial (Toddler + Child + Women) Patty Young from Modkid shares this fun MODKID Yoga Skirt Tutorial with us today.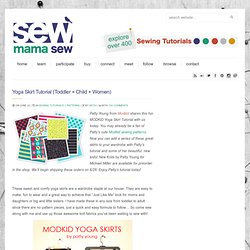 You may already be a fan of Patty's cute Modkid sewing patterns. Now you can add a series of these great skirts to your wardrobe with Patty's tutorial and some of her beautiful, new knits! New Knits by Patty Young for Michael Miller are available for preorder in the shop. We'll begin shipping these orders on 6/28. Enjoy Patty's tutorial today! How to Sew with Bias Tape. So we showed you How to Make your own Bias Tape, and you were psyched, but y'all asked for a primer on how to actually sew with it.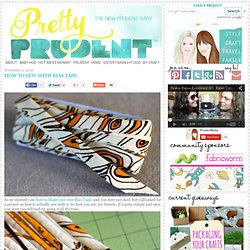 So here you are, my friends. It's quite simple and once you start you will end up using it all the time. Bias Tape finishes edges and keeps curves stabilized. In this post I'll show you how to start and finish, how to sew it on, and how to make a mitered corner. Montessori%20Childs%20Apron. Popover sundress: free downloadable pattern. We initially developed the Popover Sundress for Issue 6 of Sew Hip, the British sewing magazine.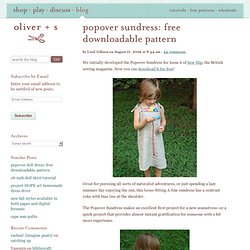 Now you can download it for free! Great for pursuing all sorts of naturalist adventures, or just spending a lazy summer day enjoying the sun, this loose-fitting A-line sundress has a contrast yoke with bias ties at the shoulder. Superhero-cape. Free Sewing Patterns | think liz. How to… make a Pillow Case Dress for Beginners. If you're new here, you may want to join us on Facebook or Google +.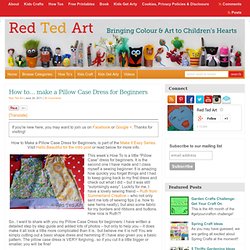 Thanks for visiting! How to Make a Pillow Case Dress for Beginners, is part of the Make It Easy Series. Visit Hello Beautiful for the intro post or read below for more info. This week's How To is a little "Pillow Case" dress for beginners. It is the second one I have made and I class myself a sewing beginner. She wears flowers: Tutorial: Kids' Shopping Book. Thank you for all of the enthusiasm for the shopping book!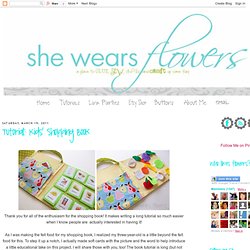 It makes writing a long tutorial so much easier when I know people are actually interested in having it! As I was making the felt food for my shopping book, I realized my three-year-old is a little beyond the felt food for this. To step it up a notch, I actually made soft cards with the picture and the word to help introduce a little educational take on this project. I will share those with you, too! Oliver+SLazyDaysSkirt.
---