Roleplay Sites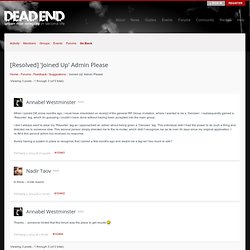 Become a Reporter! : Dead End Daily Newspaper
When I joined DE some months ago, I must have misclicked on receipt of the general RP Group invitation, where I wanted to be a 'Denizen'. I subsequently gained a 'Reporter' tag, which Im guessing I couldn't have done without having been accepted into the main group. I don't always want to wear my 'Reporter' tag so I approached an admin about being given a 'Denizen' tag. This individual didn't had the power to do such a thing and directed me to someone else. This second person simply directed me to the re-inviter, which didn't recognize me as its over 30 days since my original application. I re-IM'd this second admin but received no response.
IntelliBook Factory Tutorial.mp4
i-Subscriber™, is the low-cost maintenance-free "opt-in" solution to Second Life® subscription group needs. Ideal for store owners and club managers, i-Subscriber offers state-of-the-art features making your subscription group a breeze for both you and your group members. Please see the list below for an outline of the extensive features: Group members join by touching your Kiosks.
i-Subscriber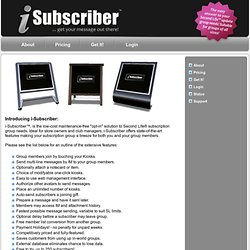 Italian Phrases and Common Sentences
icfmafia - 18
Home - iCFmafia