Daily Deals
The Daily Groupon | Coupons, Discounts, and Deals on the Best in Dallas
Baby Half Off - Snuggy Baby Xl Wetbags
My Dallas Mommy
BabySteals.com - Innobaby Keepin' Fresh Plastic
Life changes inevitably bring wardrobe changes, but that doesn't mean you have to sacrifice your style. Certainly keep the fiction section of your closet for motivation, but be just as beautiful during and after your pregnancy with Lilac and Sulee. Knowing that body shapes change over the course of our lives, Lilac and Sulee fashions look gorgeous through every phase.
Mamabargains.com - One hot deal at a time until it sells out- MamaBargains.com - are YOU hooked yet!
One Deal a day! Daily deal!
Product of the Day
Please note that these will either come packaged two knives to a box, or each knife boxed individually This great Ceramic Knife Set includes a 6-inch ceramic Santoku knife and a 4-inch ceramic paring knife, with ergonomically designed anti-slip soft handles. These knives are great conversation starters and are super fun to use. Did you know: Ceramic knives are super sharp and rarely needs sharpening.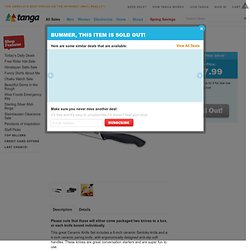 Daily Online Shopping Specials, Unique Gifts, Fashion Accessories & Home Decor - Delight.com