Home
Time for Tea Soap | Cucumbersome. Drinking tea is such a lovely ceremony, what with the dainty cups and small spoons and little dishes reserved only for steeped tea bags.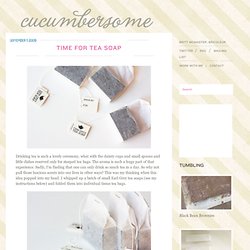 The aroma is such a huge part of that experience. Sadly, I'm finding that one can only drink so much tea in a day. So why not pull those luscious scents into our lives in other ways? This was my thinking when this idea popped into my head. I whipped up a batch of small Earl Grey tea soaps (see my instructions below) and folded them into individual tissue tea bags. Img_deluxe_verandah_popup.jpg (500×333) ANALOG|DIALOG. Emmas designblogg - design and style from a scandinavian perspective. Apartment Therapy. Interiors. Interior divine. Houzz - Home Design, Decorating and Remodeling Ideas and Inspiration, Kitchen and Bathroom Design.
12856_EX1.jpg (350×460) 40434d1240427063-decorating-leather-sofa-march-17-2009-011.jpg (1600×1200) Create a Chic Bud Vase Out of an Old Light Bulb.
---