Melissaangelucci
Melissa
Teacher
Walk through the Continents - Print Maps Large and Small - Free. Print out maps in a variety of sizes, from a single sheet of paper to a map almost 7 feet across, using an ordinary printer.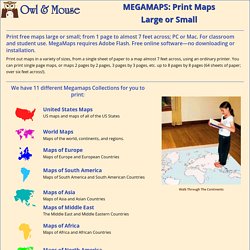 You can print single page maps, or maps 2 pages by 2 pages, 3 pages by 3 pages, etc. up to 8 pages by 8 pages (64 sheets of paper; over six feet across!). We have 11 different Megamaps Collections for you to print: Trace car trips; where grandparents and aunts and uncles and cousins live; the Oregon Trail and the Cumberland Gap; Huck Finn's journey; the Rocky Mountains, the Appalachians, the Mississippi River, the Columbia River and the Colorado, label states... There are any number of ways to use these maps. They can be large enough to see clearly from across the room, and to contain many different types of information.
Awti Productions. Instructables - DIY How To Make Instructions. Block Posters - Create large wall posters from any image for free! Common Core and Educational Technology.
BeCreative
Ebeam and smart support. Ipad stuff. Visual Supports. ASL. On the Web. Science. Elementary. Content.
Things to check out. Things i use everyday. Varsity Sports.
---