Web
Nerd Blender - Le mélange est ce que nous faisons. Zoo blender: index. KOPILOT - Tutoriels HD en francais - Video formation - Blender 3D - Accueil. Faisons connaissance avec l'interface. Chapitre 3 - Prenons en main l'interface de Blender !
Tutorials. Gleb Alexandrov revisits shrub modeling in this new quick tutorial.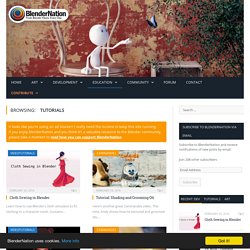 He uses a new approach to model branches and demonstrates several techniques for adding leaves. In part one of this tutorial, he used the Space Tree Add-on. Blender Underground Video Tutorials.