Music
SBTRKT - HIGHER (ft. Raury) Soundspot : l'app qui géolocalise votre musique, par Skol. Par Claire D. il y a 2 mois Les bières Skol et l'agence F/Nazca Saatchi & Saatchi Brazil présentent Soundspot, une application permettant d'associer de la musique à des lieux.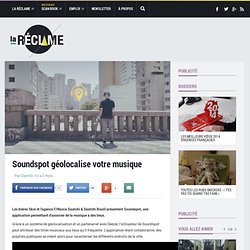 Grâce à un système de géolocalisation et un partenariat avec Deezer, l'utilisateur de Soundspot peut attribuer des titres musicaux aux lieux qu'il fréquente. Etienne de Crecy "Hashtag My Ass" - Super Discount 3. Hashtag My Ass - Melazification Record Box. Aphex Twin, le retour ? Un dirigeable dans le ciel de Londres, un tag à New-York et un possible nom d'album : Aphex Twin, 13 ans après sa dernière sortie, prépare son retour.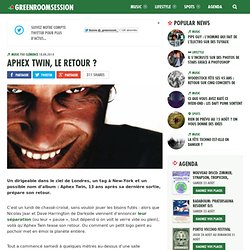 C'est un lundi de chassé-croisé, sans vouloir jouer les bisons futés : alors que Nicolas Jaar et Dave Harrington de Darkside viennent d'annoncer leur séparation (ou leur « pause », tout dépend si on voit le verre vide ou plein), voilà qu'Aphex Twin tease son retour. Ou comment un petit logo peint au pochoir met en émoi la planète entière. Tout a commencé samedi à quelques mètres au-dessus d'une salle londonienne, l'Oval Space, quand un dirigeable vert portant le logo d'Aphex Twin et la date '2014′ a commencé à se balader. CARIBOU - Can't Do Without You. Ellen Allien unleashes her top six dancefloor slammers. Berlin-based DJ producer and BPitch Control boss Ellen Allien is a true creative at heart.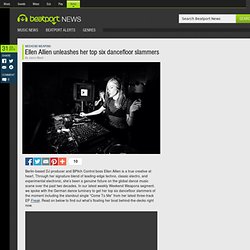 Through her signature blend of leading-edge techno, classic electro, and experimental electronic, she's been a genuine fixture on the global dance music scene over the past two decades. In our latest weekly Weekend Weapons segment, we spoke with the German dance luminary to get her top six dancefloor slammers of the moment including the standout single "Come To Me" from her latest three-track EP Freak.
Read on below to find out what's floating her boat behind-the-decks right now. ACID — This production is just hypnotic and working on the dancefloor. Sure thing — this guy knows what acid and techno means! The Nostalgia Machine. Best Hard Rock Bands of the 90s. The greatest hard rock bands of the 90s Don't agree with the list?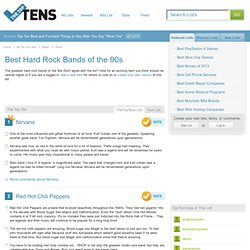 Vote for an existing item you think should be ranked higher or if you are a logged in, add a new item for others to vote on or create your own version of this list. The Top Ten. Un freestyle de Kanye West, 19 ans, exhumé sur le web. Isaac Delusion dévoile le premier clip infini. Home | Dummy. HOLY STRAYS - « CHASM » | MUSIC VIDEO PREMIERES. Pitchfork. SNTWN — Techno, House & Electronic Music depuis 2008. HYPETRAK. Your Destination for Music, Tracks, and Video. Oliver Koletzki | Official Website. Oliver Koletzki | Official Website. Ipod Food. Le Tournedisque. Playlists / blog. LE RENART. Latest songs from music blogs worldwide / The Hype Machine. RA: Resident Advisor - dance & electronic music magazine. SSS / SeekSickSound. Calibre – Shelflife 2 | drumandbass.de - Drum and Bass Music Blog. Dominick Martin aka Calibre aus Belfast, Nordirland ist einer der aktivsten Drum & Bass Produzenten überhaupt.¬† Calibre hat angeblich noch hunderte unveröffentlichter Tracks in seiner Schublade liegen.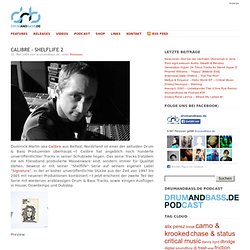 Das seine Tracks trotzdem nie am Fliessband produzierte Massenware sind, sondern immer für Qualität stehen, beweist er mit seiner "Shelflife" Serie auf seinem eigenen Label "Signature", in der er bisher unveröffentlichte Stücke aus der Zeit von 1997 bis 2005 mit neueren Produktionen kombiniert.¬† Jetzt erscheint der zweite Teil der Serie mit wiederum erstklassigen Drum & Bass Tracks, sowie einigen Ausflügen in House, Downtempo und Dubstep.
Preview: Calibre – Shelflife 2 Tracklist: Convertisseur YouTube vers mp3. Music. Accueil | Solidays. Melazification. Upload Subscription preferences Loading...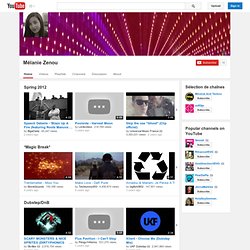 Working... Mélanie Zenou Spring 2012. CLIP TO MP3 : conversion de tous les clips vidéos du web en MP3. Beatport.
---