29/09/11
TEDx Beirut fait salle comble
27-09-2011 | par M.-J. D. | source: CDL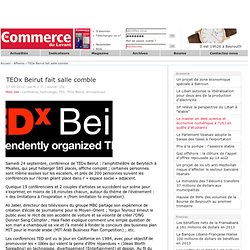 Social Media Week: Traditional vs New Media…. « Ritachemaly's Blog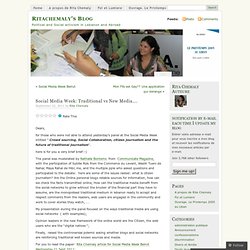 September 22, 2011 by Rita Chemaly i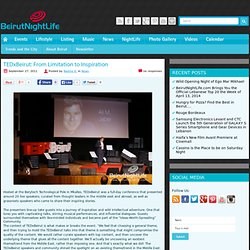 Hosted at the Berytech Technological Pole in Mkalles, TEDxBeirut was a full-day conference that presented around 20 live speakers; curated from thought leaders in the middle east and abroad, as well as grassroots speakers who came to share their inspiring stories.
TEDxBeirut: From Limitation to Inspiration | Beirut The Only Way It Should Be, NightLife, Clubbing, Events, DineOut, Concerts, Festivals, Clubs, Pubs, Bars, Hotels, Restaurants, Lifestyle, Music, Fashion
Social Media Week Beirut at AltCity: talks of networking and connecting | Hibr
ITW de Nathalie Bontems, rédactrice en chef du magazine Communicate - What Women Wish
Un message alarmiste circule sur Facebook depuis la semaine dernière, d'abord en anglais et maintenant traduit en français: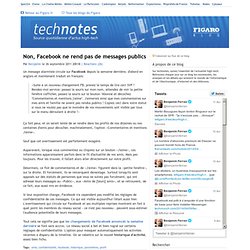 Non, Facebook ne rend pas de messages publics - technotes
Facebook, l'étoffe du réseau
Numérique - Article - Et Facebook devint le Web
Le Web social est actuellement loin d'être une morne plaine, mais comme à Waterloo, la bataille y fait rage. Les deux principaux mastodontes de l'Internet, Google et Facebook, y jouent le rôle des généraux de guerre.
Google et Facebook accentuent leur bataille 2.0 - INTERNET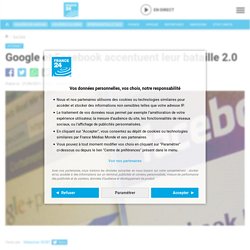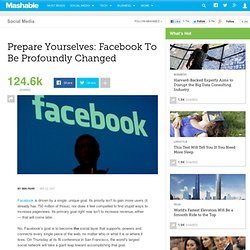 Facebook is driven by a single, unique goal. Its priority isn't to gain more users (it already has 750 million of those), nor does it feel compelled to find stupid ways to increase pageviews. Its primary goal right now isn't to increase revenue, either — that will come later.
Prepare Yourselves: Facebook To Be Profoundly Changed
La guerre des géants du web | WEBDOCU.fr, webdocumentaires et nouvelles formes de reportage
Al-Mayadeen: la chaîne anti Al-Jazeera dans le monde arabe - De Bagdad à Jérusalem : L'Orient indiscret
Alors que le directeur-général d'Al Jazeera, Waddah Khanfar, vient d'être remplacé par le gendre de l'émir du Qatar, pour des raisons encore obscures, le paysage télévisuel est en mutation au Moyen-Orient.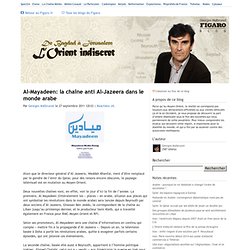 - Ivan ASKWITH, This is (just) a game.
Télévision - Article - Les nouvelles pratiques de production et de réception télévisuelles
- Le plateau d'Al Jazeera English, à Doha, au Qatar, en 2011. REUTERS/ Fadi Al-Assaad - S on nom est jugé trop sulfureux par les compagnies américaines de câble et de satellite: elles refusent d'intégrer la chaîne dans leur offre.
Al Jazeera, un nom de famille, deux identités, une victoire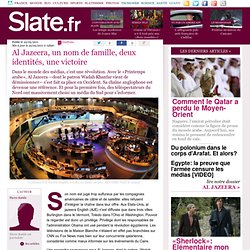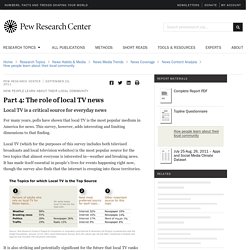 The role of local TV news
September 26, 2011 For many years, polls have shown that local TV is the most popular medium in America for news.
Scandale à l'AEF : un rebondissement majeur ! - Médias / Net
Audiovisuel extérieur de la France: Pierre Hanotaux nouveau numéro deux
Télévision - Article - Al-Waleed Bin Talal annonce le lancement de sa nouvelle chaîne Alarab
On September 13, 2011, after a year of suspense , Prince al Waleed Bin Talal has finally revealed the name of his private satellite news channel: Alarab . During the official presentation , Al Waleed Bin Talal said the channel's editorial line will be inspired by the recent political events that have transformed the region, with particular attention to be paid to freedom of speech.
First Lebanese TV on mobile phones goes live worldwide - TechME
Karachi: L'Elysée twitte pour dédouaner Nicolas Sarkozy
Twitter en Irlande: microblogs et micro impôt sur les sociétés
Twitter, rédaction open source
Business :: Lebanon :: 4,000 lucky Lebanese test-drive faster 3G Internet technology
BEIRUT: A lucky 4,000 Lebanese smart-phone users are getting busy exploring the benefits of 3G four days into its long-awaited pilot launch. "I've made more than 7 [Voice-over IP] calls that were international since I got 3G.
28-09-2011 | par M-J.D.
Le Conseil d'Etat ordonne la suspension pour un mois de la 3G
Alfa launches the 3G Pilot Phase - iloubnan.info
Here's to launching the 3G service in Lebanon!
Last day I got a phone call from a gentleman in MTC Touch telling me that I will be granted the 3G service for a 1 month free trial period, and so right now I'm among the lucky people who got to participate in the pilot testing of this service in Lebanon.
Les abonnés au réseau mobile en hausse de 18% fin août
20-09-2011 | par P.S. | source: Ministère des Télécommunications
My last valentine in Beirut
For the laughs and the tears « Lebanese Voices's Blog
Where Do We Go Now? وهلّأ لوين | Ivy says
récompensé aux États-Unis
Liens vagabonds (début d'automne
[Etude] Moins de la moitié des Français ont confiance dans les sites d'actu
[Infographie] Où internet est-il le plus performant?
Les réseaux sociaux nous facilitent la vie
[Infographie Médias] Qui consomme quoi et quand?
[Infographie] Quels sont les réseaux sociaux les plus utilisés à travers le monde?
Classement Klout des Journalistes Français
[Etude] Etat des lieux du mobile en France
[Infographie] Google, My Big Brother
Pas de Taxes de travail pour les Maris "Etrangers: des Femmes libanaises « Ritachemaly's Blog
Le taux d'inactivité des femmes libanaises est un frein à la croissance
Migrations Map: Where are migrants coming from? Where have migrants left?
Why Voting Might Not Be A Fair Competition In The MENA Region [Infographic] | Socila Medina
Lancement des nouveaux sites internet de l'ambassade de France au Liban et de l'Institut français du Liban - Art & culture
Le monde arabe en révolution(s)
Une journaliste a filmé la répression en Syrie - Monde
La situation en Syrie selon le témoignage des touristes (vidéo)
Syrie : la répression... vue de l'espace
Présidentielle 2012
Zambie : Les médias sociaux pour suivre les élections du 20 septembre
L'Algérie, un "pays pathétique" selon des diplomates français
Turquie : 174 soldats israéliens à la Une