1/12/11
Invisible victims in Lebanon
Beirut, Lebanon - Lebanon is home to 1.2m foreign migrant workers out of which the domestic migrant worker (DMW) population is estimated at 400,000 and almost all female. The incremental growth in domestic workers has been due to a combination of Lebanese views on social status and feminism where household chores are viewed as lowly and unworthy of middle and upper middle class wives.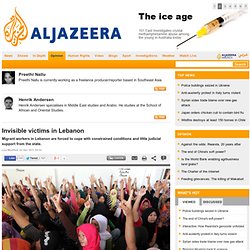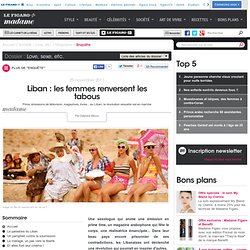 Depuis son lancement, il y a un an, on y parle sans tabou d'orgasme, d'éjaculation précoce, de relations sexuelles pendant la grossesse, de positions favorisant le plaisir... Ce lundi-là, en un rapide contre-champ, la caméra zoome sur le public.
Films, émissions de télévision, magazines, livres... au Liban, la révolution sexuelle est en marche - Liban : les femmes renversent les tabous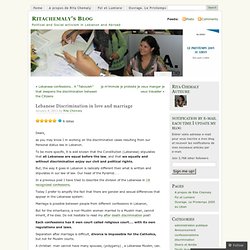 Lebanese Discrimination in love and marriage « Ritachemaly's Blog
January 4, 2011 by Rita Chemaly i
Two-thirds of Lebanese emigrate for employment reasons, 77% of emigrants are younger than 35 years - Social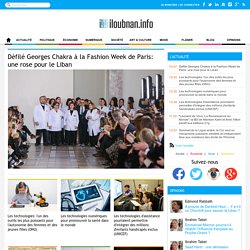 BEIRUT | iloubnan.info - November 26, 2011, 16h37
BIODIVERSITÉ • Au Liban, la contrebande d'animaux bat son plein
COURAGE IS CONTAGIOUS - THE CASE STUDY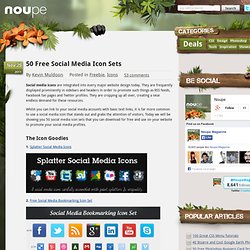 50 Free Social Media Icon Sets
Nov 25 2011 Social media icons are integrated into every major website design today.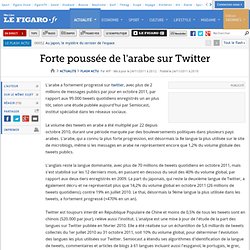 Forte poussée de l'arabe sur Twitter
L'arabe a fortement progressé sur twitter, avec plus de 2 millions de messages publics par jour en octobre 2011, par rapport aux 99.000 tweets quotidiens enregistrés un an plus tôt, selon une étude publiée aujourd'hui par Semiocast, institut spécialisé dans les réseaux sociaux. Le volume des tweets en arabe a été multiplié par 22 depuis octobre 2010, durant une période marquée par des bouleversements politiques dans plusieurs pays arabes.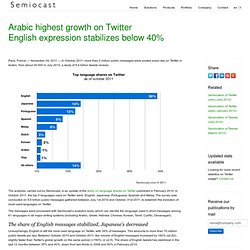 Paris, France — November 24, 2011 — In October 2011, more than 2 million public messages were posted every day on Twitter in Arabic, from about 30 000 in July 2010, a study of 5.6 billion tweets reveals. The analysis, carried out by Semiocast, is an update of the study on language shares on Twitter published in February 2010.
Croissance exceptionnelle de l'arabe sur Twitter — L'anglais se stabilise en dessous de 40%
28-11-2011 | par M.-J.
Sur Twitter, l'arabe fait un tabac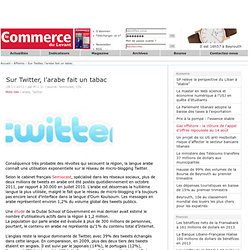 Être femme et journaliste au Caire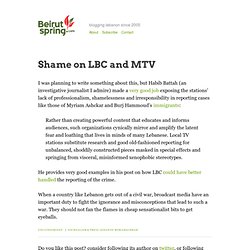 Shame on LBC and MTV
I was planning to write something about this, but Habib Battah (an investigative journalist I admire) made a very good job exposing the stations' lack of professionalism, shamelessness and irresponsibility in reporting cases like those of Myriam Ashckar and Burj Hammoud's immigrants:
Rest in Peace, Myriam Achkar
I finally got to see yesterday the LBC report on Myriam Al Achkar's assassination. For those not following Lebanese news, Myriam was killed by a Syrian worker while going to a Church called "path to heaven".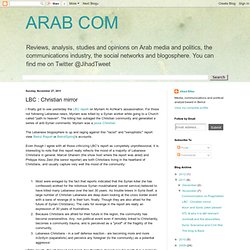 LBC : Christian mirror
ARAB COM
The Beirut Report: Packaging fear, broadcasting rage
Il y a trois semaines, une source française généralement bien informée m'apprend que «Paris soutient logistiquement les insurgés syriens en leur fournissant en sous-main du matériel infrarouge et des moyens de communications.»
La France aide-t-elle les insurgés syriens? - De Bagdad à Jérusalem : L'Orient indiscret
Le Liban, pays le plus touché par les sanctions de la Ligue arabe contre la Syrie - SYRIE-LIBAN
Avec notre correspondant à Beyrouth, Paul Khalifeh
Nouvelle grève à RFI contre la fusion avec France 24 - Radio
Meet the 2011 Mashable Awards Nominees for Social Media
After collecting nominations from the Mashable community for over a month, the 2011 Mashable Awards have now shifted to the voting portion of the program.
Depuis cet été, les créations de médias se multiplient : naissances de pureplayers (NewsRing, Quoi.info), nouveaux sites pour des médias établis (Le Plus de l'Obs, Express Yourself, Le Lab d'Europe1, FranceTV Info, Huffington Post français...).
Il pleut des médias
Driven in part by the explosion of vibrant social-networking media, the crowdfunding sensation now stretches to the far reaches of the globe. Fostering creativity, philanthropy, and growth, crowdfunding sites have fundamental social and economic impact, and are altering the allocation of capital. This great new infographic — commissioned by the crowdfunding site PleaseFund.Us in collaboration with Crowdsourcing.org — provides insights into crowdfunding including: