02/02/12
Flâneries multimédia du dimanche n°22. Nous voici de retour !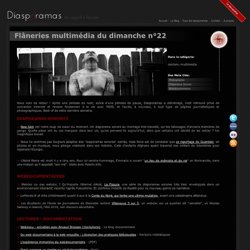 Après une période de rush, suivie d'une période de pause, Diasporamas a déménagé, s'est retrouvé privé de connexion internet et revient finalement à la vie avec l'ADSL et l'accès, à nouveau, à tout type de pépites journalistiques et photographiques. Best-of de cette dernière semaine. > New Skin est notre coup de coeur du moment. Un diaporama sonore au montage très travaillé, sur les tatouages d'anciens membres de gangs. Liens vagabonds (30 janv. 10 vérités à connaitre avant de faire de la photo. En novembre dernier, Darren Rowse du site digital photography school posait cette question simple à ces lecteurs : Qu'auriez vous aimez savoir avant de faire de la photographie ?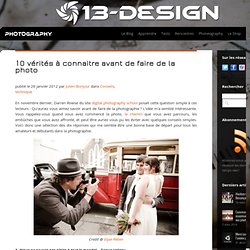 L'idée m'a semblé intéressante. Vous rappelez-vous quand vous avez commencé la photo, le chemin que vous avez parcouru, les embûches que vous avez affronté, et peut être auriez vous pu les éviter avec quelques conseils simples. Voici donc une sélection des dix réponses qui me semble être une bonne base de départ pour tous les amateurs et débutants dans la photographie. Credit @ Elyse Patten. Typologie du traitement web de l'information locale. Lien vagabond : Comment CNN vérifie (ou non) les contenus sur son site iReport ? Par Julien Le Bot Début de semaine en forme de lien vagabond : l'excellent site Poynter est revenu, la semaine dernière, sur la façon dont CNN, que tout le monde connaît, s'arrange (depuis cinq ans déjà !)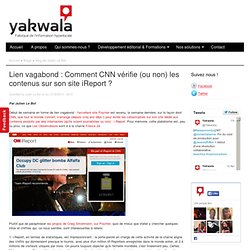 Pour éviter les catastrophes sur son site dédié aux contenus produits par des internautes (qu'ils soient journalistes ou non) : i-Report. Pour mémoire, cette plateforme est, peu ou prou, ce que Les Observateurs sont à à la chaîne France 24. Plutôt que de paraphraser les propos de Craig Silvermann, sur Poynter, quoi de mieux que d'aller y chercher quelques infos et chiffres qui, ce nous semble, sont intéressantes à retenir. 1/ i-Report, en termes de statistiques, est impressionnant : la porte-parole en charge de cette activité de la chaîne aligne des chiffrs qui donneraient presque le tournis, avec plus d'un million d'i-Reporters enregistrés dans le monde entier, et 2,4 millions de visiteurs uniques par mois.
How CNN's iReport verifies its citizen content. The protests that erupted in Nigeria earlier this month over skyrocketing fuel prices initially received only a small amount of coverage from North American media, including CNN.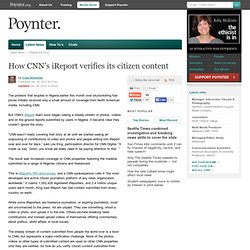 But CNN's iReport team soon began seeing a steady stream of photos, videos and on the ground reports submitted by users in Nigeria. It became clear they couldn't ignore the story. Seven top tips for verifying tweets. Twitter is like the coffee machine in the newsroom.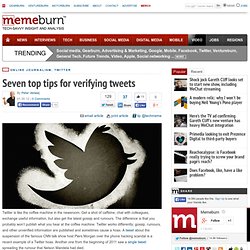 Get a shot of caffeine, chat with colleagues, exchange useful information, but also get the latest gossip and rumours. The difference is that you probably won't publish what you hear at the coffee machine. Twitter works differently: gossip, rumours, and other unverified information are published and sometimes cause a hoax.
A tweet about the suspension of the famous CNN talk show host Piers Morgan over the phone hacking scandal is a recent example of a Twitter hoax. Robert Fisk: Syria is used to the slings and arrows of friends and enemies - Robert Fisk - Commentators. True, the Syrian regime has never confronted opposition on such a scale.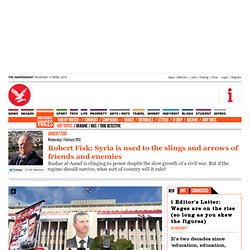 If the fatalities do not yet come close to the 10 or 20 thousand dead of the 1982 Hama uprising, which old Hafez al-Assad crushed with his customary ruthlessness, the widespread nature of today's rebellion, the defections from the Syrian army, the loss of all but one Arab ally – little Lebanon, of course – and the slow growth of a civil war make this the most dangerous moment in Syria's post-independence history. How can Bashar al-Assad hang on? Well, there's Russia, of course, and the Putin-Medvedev determination not to be caught out by the West at the United Nations as they were when they failed to oppose the no-fly zones over Libya that led directly to Gaddafi's collapse. Fighting Intensifies in Syria - Photographs.
Fighting near Damascus, the Syrian capital, has grown more intense in recent days as the Free Syrian Army, composed partly of army defectors, has attacked and violently resisted forces loyal to President Bashar al-Assad.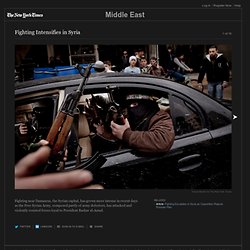 Demonstrators carried the body of Mazen Abul Dahad, 23, a fighter from the Free Syrian Army who was shot in a battle with the government's security forces. Fighters from the Free Syrian Army looked at army tanks positioned outside Rankous, about 20 miles north of Damascus. Parier sur l'innovation ailleurs. Parier autrement? Mise à jour : Article publié dans le supplément du Monde du samedi 7 janvier.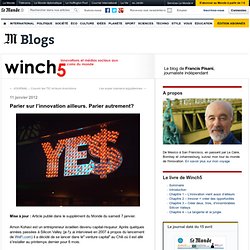 Arnon Kohavi est un entrepreneur israélien devenu capital-risqueur. Après quelques années passées à Silicon Valley (je l'y ai interviewé en 2007 à propos du lancement de WeFi.com) il a décidé de se lancer dans le" venture capital" au Chili où il est allé s'installer au printemps dernier pour 6 mois. Innovation et création d'entreprise dans les espaces de coworking ?
Your Guide to Crowdfunding Public Media Projects. Need $40,000 to produce a local documentary?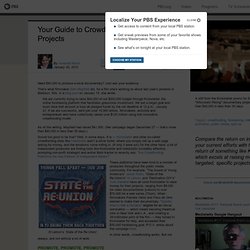 Just ask your audience. That's what filmmaker Sam Mayfield did, for a film she's working on about last year's protests in Madison, Wis. :: Les Cahiers du journalisme :: Les Cahiers du journalisme N° 22/23 LE JOURNALISME NUMÉRIQUE : FORMES, FORMATS, FRONTIÈRES Nouveau credo C'est la vocation même des Cahiers du journalisme depuis leur création en 1996 : s'intéresser à « l'évolution des pratiques journalistiques en France et à l'étranger* ».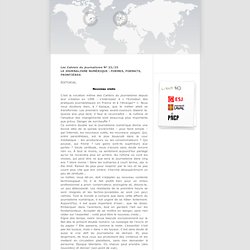 Nous nous doutions bien, à l`époque, que le métier allait se transformer. CORPORATE FILM: TOTAL. Beirut death of Nepalese migrant worker Lila - video | News. Liban la mort est dans le champ. Culture :: Music :: Tales from Beirut's hip-hop trenches. BEIRUT: Edouard Abbas, one of the founders of the Lebanese hip-hop group Fareeq al-Atrash, is outraged.
"Did you know that last week, Joe Budden and Royce da 5'9" were here in Lebanon?" He asks incredulously. Mode : Beyrouth en prêt-à-porter : Céline Khairallah lance "Scene س" A mosaic of captured moments. N a leafy corner of Hamra Street, a mosaic of captured moments is on display at the Dar al-Mussawir's photography house. Varied and lively, the photographs form an intriguing whole that makes the Mosaic exhibition well worth a visit. The exhibition, just one of a series called 12 in 12 to be hosted by Dar al-Mussawir throughout 2012, lives up to its name. Photographs are eclectic in theme as well as the feelings they evoke. The common thread is "the eye," says 28-year-old Dar al-Mussawir photography trainer Ibrahim Dirani. Rayess Bek – artiste conscient, rappeur à contre-courant |
English version follows La quasi-disparition des espaces publics au Liban depuis la guerre civile rend aujourd'hui plus que jamais nécessaire la présence d'une activité artistique, base de partage et de dialogue social. La musique ne fait pas exception, reflétant les nombreuses difficultés rencontrées par les Libanais dans les domaines politique, social et économique. Local News :: Reading spots for times when home just won't do. BEIRUT: It may not rain for much of the year in Lebanon, but when it does the inevitable downpour saps all impetus to do anything but curl up indoors. But eventually cabin fever sets in, the once-charming walls of one's home become oppressive, and the realization quickly dawns: It's time to get out. For avid readers, that means seeking out spots where one can comfortably sit for hours in the thrall of a book.However, the perfect public reading place is an elusive entity.
Factors to be considered include light, warmth, music, the availability of caffeine and food, as well as temperament of the staff and fellow customers. "Metel ma shelta" : A Beyrouth, une initiative citoyenne contre les détritus dans la rue. La solidarité « people » ne change rien au sort des bonnes au Liban.
Seven ways journalists can use Pinterest. 5 extensions si vous voulez revenir à l'ancien Facebook - Le Nouvel Observateur. Jean-Marie Charon : "Un journaliste d'investigation travaille aujourd'hui avec Internet" Le modèle de micro-crédit bangladais aide les femmes zambiennes. Le rôle de Twitter en Afrique.
---