Art
Drawing Hands. This short tutorial is a just a small taste of a larger and much more in-depth book I wrote called The Mad Art of Caricature!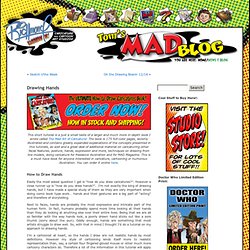 The book is 175 full-color pages, lavishly illustrated and contains greatly expanded explanations of the concepts presented in this tutorials, as well and a great deal of additional material on caricaturing other facial features, posture, hands, expression and more, techniques on drawing from live models, doing caricature for freelance illustration and for MAD Magazine. This is a must have book for anyone interested in caricature, cartooning or humorous illustration. You can order it online here. How to Draw Hands Easily the most asked question I get is "how do you draw caricatures?". Today in art » 8 Drawing Exercises That Every Artist Should Practice.
Sponsors make this site possible.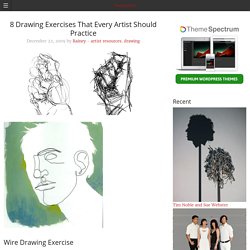 Wire Drawing Exercise Example from save-janos.net – this example has been placed on a painted acrylic background With this exercise you are not going to be drawing at all. How to Draw the Head From Any Angle | Stan Prokopenkos Blog. The Basic Forms To draw the head from any angle you must first understand its basic structure.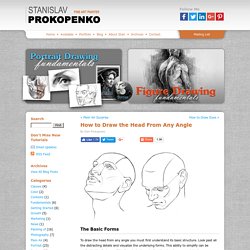 Look past all the distracting details and visualize the underlying forms. This ability to simplify can be applied to the features of the face, but when starting the drawing you could look even further. Quilling - Turning Paper Strips into Intricate Artworks. Quilling has been around for hundreds of years, but it's still as impressive and popular now as it was during the Renaissance.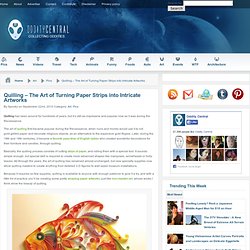 The art of quilling first became popular during the Renaissance, when nuns and monks would use it to roll gold-gilded paper and decorate religious objects, as an alternative to the expensive gold filigree. Later, during the 18th and 19th centuries, it became a favorite pass-time of English ladies who created wonderful decorations for their furniture and candles, through quilling. Basically, the quilling process consists of cutting strips of paper, and rolling them with a special tool. It sounds simple enough, but special skill is required to create more advanced shapes like marquises, arrowheads or holly leaves.
All through the years, the art of quilling has remained almost unchanged, but new specialty supplies now allow quilling masters to create anything from detailed 3-D figures to wall-sized museum installations. Everything but the Paper Cut: Eye-popping Ways Artists Use Paper. In the year since the Museum of Art and Design reopened in its new digs on Columbus Circle, they've been delivering consistently compelling shows--from punk-rock lace to radical knitting experiments.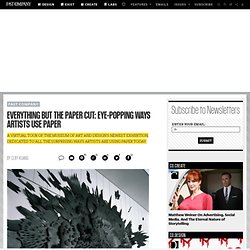 The newest, "Slash: Paper Under the Knife", opened last weekend and runs through April 4, 2010. The focus is paper--and the way contemporary artists have used paper itself as a medium, whether by cutting, tearing, burning, or shredding. In all, the show features 50 artists and a dozen installations made just for the show, including Andreas Kocks's Paperwork #701G (in the Beginning), seen above.
Here's a sampling of the other works on display: Mia Pearlman's Eddy: Making buildings in foamboard. Miniature building construction in foamboard by Emmanuel Nouaillier Emmanuel Nouaillier shows how to scratch build and age miniature structures.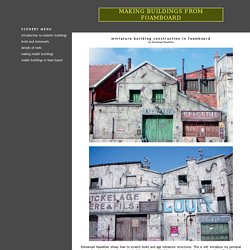 This is will introduce my personal approach and techniques for scratch building and ageing buildings, pertaining to the typical northern French urban landscape of the 1940s and early 50s. Color Scheme Designer 3.
---