Tutorials
Adjusting and enhancing photos in Photoshop can involve a lot of trial and error, and be very time consuming. Thankfully their are actions to make our job easier. Here are 50 excellent Photoshop actions that can add professional looking enhancements to your photos with the click of a button.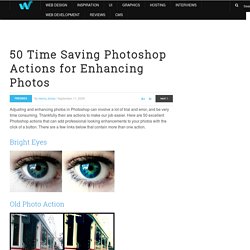 I've tried to collect a few photo effects tutorials that are very much centered around one subject rather than a complete photo manipulation. If you don't like the finished product I'm sure you'll find some cool techniques to do certain effects in these tutorials. Texture Lovers has some great free textures for use in your photo manipulations too. How to Turn Humdrum Photos into Cinematic Portraits Dance Photo Manipulation
How to Make a Moving Image Using Adobe Photoshop
Whenever I'm stuck for tutorial ideas I always seem to be able to fall back on my typical 'Chris Spooner' style of cool abstract patterns people seem to enjoy. We've used similar techniques on the 3 poster a couple of years ago and more recently on a colourful abstract poster.
How To Create a Cool Abstract Radial Pattern Design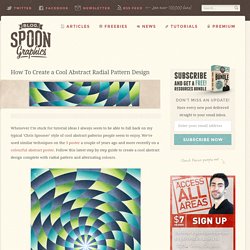 Image Editing Tutorial You might have noticed that under certain conditions, the image acquired with your DSLR has far too much information, thus creating noise and digital artifacts that mar your photo. This is particularly an issue when you're shooting at night and/or with a high ISO in other low-light conditions... it's the downside of attempting to capture an image when the exposure latitude (the difference between the lightest and darkest section) is wide. So Photoshop has the ability, when properly applied, to eliminate a tremendous amount of that noise. Here are a few methods to do it.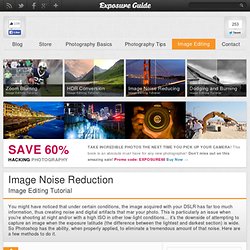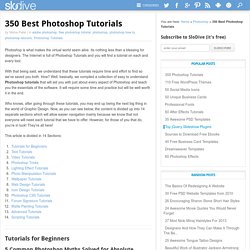 Photoshop is what makes the virtual world seem alive. Its nothing less than a blessing for designers. The Internet is full of Photoshop Tutorials and you will find a tutorial on each and every tool.
This is a Photoshop tutorial on how to create a beautiful photo film strip, as seen in Apple's iLife package design ('06 version) and DigitalMash website. The warp tool will be used to create the twisting effect (so, you need Photoshop CS2 or above to complete this tutorial). With the completion of this tutorial, you will be able build a photo strip with your own photos or artwork.