Design
Free Collage Sheets. Graphique. Recycled-bottle-torch from gerardotandco.com - StumbleUpon. 08.09.09 | by Erik Anderson Whether it's product branding, package design or projects for ourselves, we're pleased when we find a solution that's very effective and creative, while keeping resources to a minimum.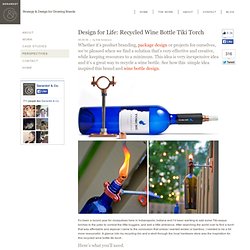 This idea is very inexpensive idea and it's a great way to recycle a wine bottle. See how this simple idea inspired this brand and wine bottle design. It's been a record year for mosquitoes here in Indianapolis, Indiana and I'd been wanting to add some Tiki-esque torches to the patio to combat the little buggers, and add a little ambiance.
Creative Project Ideas. Untitled Document.
---