Jewelry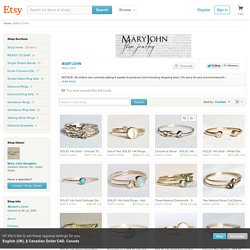 Welcome! In this place I hope to share some of my ideas and imagination. Everything that I create has a story.
Mary John by MARYJOHN on Etsy
elvish : RED SOFA
I've taken snippets of dictionary words from various old dictionaries and mounted them in glass-enclosed silver bezels to create these one-of-a-kind pendants. The pendants measure 18x13mm and hang from an 18" silver plated chain. A sterling silver chain upgrade is available for an additional $8. ****Many have asked how to enter their word selection. If you do not find the message area when checking out via Paypal please email me at jjscott@cableone.net after ordering with your list of words********* These necklaces are totally customizable and are made with any word of your choice. LizKinnmark Liz Kinnmark is a 24-year-old designer based in Brooklyn, NY. She was born in Indiana and raised just outside Chicago - but she has been told that she was conceived in NYC, which explains a few things. She spent the first half of college at Carnegie Mellon University, before falling hopelessly in love with New York and and transferring to Pratt Institute. At Pratt she designed the Egg Pants that would make her internet-famous. Upon graduating, she was overconfident enough to try to start a business with her friend Kegan.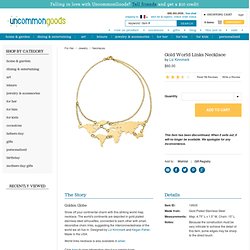 GOLD WORLD LINKS NECKLACE | World Map Jewelry
Jewelry Designer Casts Vintage Lace in Recycled Gold, Silver
Share on Tumblr Email If you think that lace is the sole province of doily-making grannies, you're sorely mistaken. Cast in recycled gold and silver, antique lace takes on a surprisingly modern and edgy countenance.
Wexford Jewelers | our passion is design >> Almost Unthinkable