Jewelry
Mary John by MARYJOHN on Etsy
elvish : RED SOFA
I've taken snippets of dictionary words from various old dictionaries and mounted them in glass-enclosed silver bezels to create these one-of-a-kind pendants. The pendants measure 18x13mm and hang from an 18" silver plated chain. A sterling silver chain upgrade is available for an additional $8. ****Many have asked how to enter their word selection. If you do not find the message area when checking out via Paypal please email me at jjscott@cableone.net after ordering with your list of words********* These necklaces are totally customizable and are made with any word of your choice. Golden Globe Show off your continental charm with this striking world map necklace. The world's continents are depicted in gold plated stainless steel silhouettes, connected to each other with small, decorative chain links, suggesting the interconnectedness of the world we all live in. Designed by Liz Kinnmark and Kegan Fisher . Made in the USA. World links necklace is also available in silver .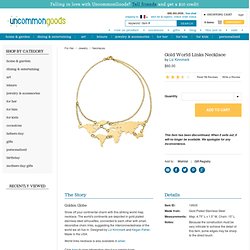 GOLD WORLD LINKS NECKLACE | World Map Jewelry
Jewelry Designer Casts Vintage Lace in Recycled Gold, Silver
Share on Tumblr Email <a href="http://ad.doubleclick.net/jump/Ecouterre/;kw=content1;sz=300x250;ord=123456789?" target="_blank" ><img src="http://ad.doubleclick.net/ad/Ecouterre/;kw=content1;sz=300x250;ord=123456789?"
Wexford Jewelers | our passion is design >> Almost Unthinkable