Biz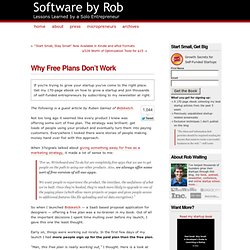 If you're trying to grow your startup you've come to the right place. Get my 170-page ebook on how to grow a startup and join thousands of self-funded entrepreneurs by subscribing to my newsletter at right. The following is a guest article by Ruben Gamez of Bidsketch .
Why Free Plans Don't Work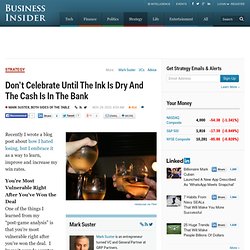 Don't Celebrate Until The Ink Is Dry And The Cash Is In The Bank
Recently I wrote a blog post about how I hated losing, but I embrace it as a way to learn, improve and increase my win rates. You're Most Vulnerable Right After You've Won the Deal One of the things I learned from my "post-game analysis" is that you're most vulnerable right after you've won the deal. I know it sounds counter-intuitive but my experience tells me it's true.
Back in the early days of the ATM machine, you could only transact on ATMs operated by your bank. If you were a Chase customer, you needed to find a Chase ATM to take cash out. That, of course, was a pain and the banks recognized it and formed roaming networks. The one I recall best was NYCE , which was formed by NatWest, Chase, Manny Hanny, Chemical, Barclays, Marine Midland, and Bank Of New York. The same thing has happened with mobile wifi networks.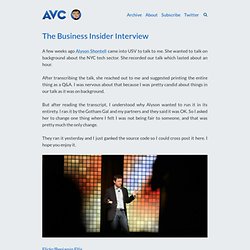 Fred Wilson (fredwilson) on Twitter
4 Cans of Red bool*