My Websites
Cry Out Fashion. Video Slideshow Maker with Music. Open a Shop | The Shops @ Funky Finds. START TODAY You can open your Shop on any day of the month, because each payment is good for 124 days of advertising / selling space.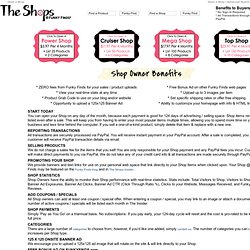 Shop items remain listed even after a sale. This will keep you from having to enter your most popular items multiple times, allowing you to spend more time on your business and less time behind the computer. Discover the Best of the Web. Check the Google™ PageRank ™ of your website.
Please note that the PageRank ™ score of the same document may be different for the URLs it is accessible on. eg. www.example.com may have different Page Rank than example.com, www.example.com/index.html and so on.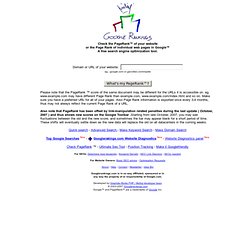 Make sure you have a preferred URL for all of your pages. Also Page Rank information is exported once every 3-4 months, thus may not always reflect the current Page Rank of a URL. Also note that PageRank has been offset by link-manipulation related penalties during the last update ( October, 2007 ) and thus shows new scores on the Google Toolbar .Starting from late October, 2007, you may see fluctuations between the old and the new score, and sometimes the bar may appear blank for a short period of time. These shifts will eventually settle down as the new data will replace the old on all datacenters in the coming weeks. Bing Business Portal. Fashion, Sewing Patterns, Inspiration, Community, and Learning | BurdaStyle.com. American Express® OPEN. Social Commerce Dashboard on Facebook. Tumblr. GoDaddy.
---