Blogs To Connect With
How does Luuux work ?
Blog Archive » What is a line sheet?
Posted by Miracle Wanzo on Aug 16, 2005 at 2:41 pm / Glossary, Sales and Marketing, Tutorial / Trackback After I wrote my post about American Apparel's line sheets, Kathleen told me that maybe a line sheet 101 type of post was in order. A line sheet is many things, but above all it is a document -actually several documents- that communicates necessary information to your prospective buyers. You will actually need 3 kinds of documents. One is a line sheet, second is a swatch card and third is an order form. I'll start with the line sheets; these must contain: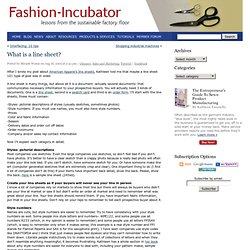 Edge of Urge Blog! » Designer and affordable clothing, shoes, accessories, housewares, and much more! Unique and stylish!
December 2011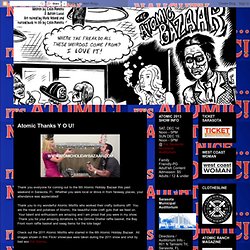 Thank you everyone for coming out to the 6th Atomic Holiday Bazaar this past weekend in Sarasota, Fl. Whether you were local or drove in from faraway places, your attendance was appreciated! Thank you to my wonderful Atomic Misfits who worked their crafty bottoms off! You are the meat and potatoes of Atomic, the beautiful indie craft guts that we feed on. Your talent and enthusiasm are amazing and I am proud that you were in my show.
Handmade Nation
I've said it before & I'll say it again, the continual support for Handmade Nation has and will keep blowing my mind. I just spent the last hour updating the screenings for the remainder of 2010 and into 2011 (ALASKA!!). This summer has been good to me with a full 2 months without getting on a plane, but now things are picking up and I realized I know what I am doing every single day through January. The three main things that I am focusing on right now aside from programing surrounding Handmade Nation along with promoting the empowerment of making are: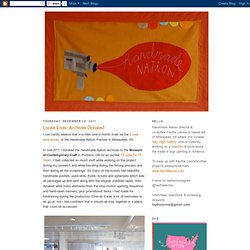 I'm noticing a big, huge, monstrous issue with entrepreneurs lately. Well, it's probably been around forever but it's seemingly ubiquitous to me right now. And it's an issue I've dealt with in my own business – many times. Too many to count, actually.
blog/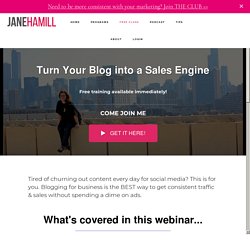 Methodology Digital influence is more than pageviews and visitors: it's what the people who see the pages and visit a site do after that. When people blog about a story they've read for their own audience, or share a photo they loved across social networks, the influence of a site expands.