Decorating
The Selby + Simple Creative Home - wave avenue - StumbleUpon. Posted by rd on Wednesday, October 19, 2011 · I recently discovered The Selby, and here is a home, more or less 1000 sq ft., bursting with neutral colors making it 'bigger' than it actually is.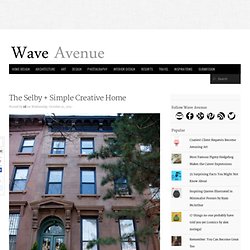 I really love the combination of open planning and simple palette in this home.. Everything's seems within reach but doesn't appear too crowded.. Every area is properly spaced.. First thing that caught my eye was the loft guest bed (sleeps overs not a problem!).. 3D room planning tool. Plan your room layout in 3D at mydeco. Dimension cleared Close Global shortcuts Open/Close this help Show info about selected component. Wall Murals, Wallpaper Murals, Custom Murals- Murals Your Way - StumbleUpon. 6 Summer Bunk Bed Rooms | Momtastic - StumbleUpon. Whether you have a large family or a busy summer house, a bunk room is an ideal solution for accommodating lots of guests.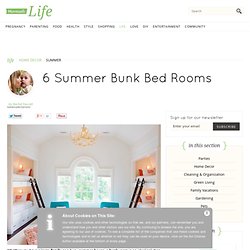 Here are some of our favorites. This nautical-inspired bunk room in a Hamptons home by Steven Gambrel features lots of room for storage with built-ins and under-bed drawers. Custom netting provides safety for the top bunks. Glass door with a surprise. JadeMountain28.jpg from ansechastanet.com - StumbleUpon.
Pour a Glass of Wine and Sink Into One of These Unusual, Luxurious Bathtubs - StumbleUpon. This is the photo that got me busy writing this ideabook.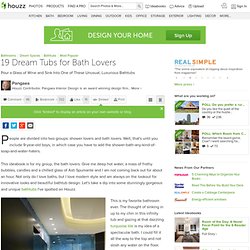 I had never before seen a glass-sided bathtub, and this one completely appeals to my minimalist tendencies. The architect, David Stern, says the client wanted this custom made tub for the kids bathroom and wanted it to feel fresh and fun. Well, he succeeded. But here is what I want to know: Why should the kids have all the fun? Watermark Tee by Sweet Verbana - StumbleUpon. Hello U-Create readers!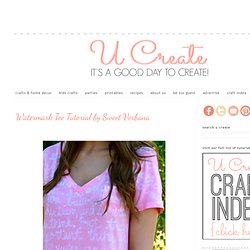 I am so excited to be guest posting here today. It just so happens to be my first guest post and I'm still a little shocked that it's here at Ucreate, one of my favorite blogs! A little bit about me.. I'm from a little town called Keller, Texas. I'm a junior at Texas A&M University (whoop!). Hanging Boat Bed - StumbleUpon. Inspirational - Folders - Andrea_ - People | mydeco - StumbleUpon. Outdoor style | Miss Design. SOLD Antique Lovely Aqua Louis XV Vanity with Mirror - $1695 - The Bella Cottage. LivingEtc - Gallery - Colour boost. Sophia Bed. Hampton Vanity Tower Super Set | PBteen.
A thrifters&paradise. Hug Chair by Ilian Milinov & Yanko Design. A Chair for Clingy Lovers If you've ever had someone sit in your lap, you know that 15 minutes is about the max your legs can handle.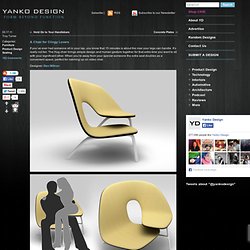 It's really not fair. The Hug chair brings simple design and human gesture together for that extra time you want to sit with your significant other. When you're away from your special someone the extra seat doubles as a convenient space, perfect for catching up on video chat. Designer: Ilian Milinov.
---