Objectivity in Journalism
Objectively | Define Objectively at Dictionary. Word Origin & History objective 1610s, originally in the philosophical sense of "considered in relation to its object" (opposite of subjective), formed on pattern of M.L. objectivus, from objectum "object" (see object (n.)).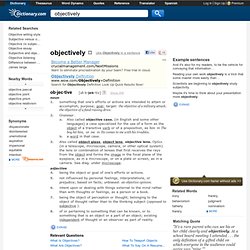 Meaning "impersonal, unbiased" is first found 1855, influenced by Ger. objektiv. Writing-objectives. Subjective vs. Objective: Point of view | reComparison. Difference between Subjective and Objective When reading stories, books, text books or magazines there's always two forms of writing used.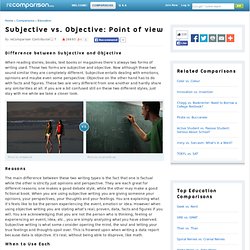 Those two forms are subjective and objective. Now although these two sound similar they are completely different. Subjective entails dealing with emotions, opinions and maybe even some perspective. Difference Between Objective and Subjective | Difference Between | Objective vs Subjective. Subjective vs Objective In stories, newspapers, and the spoken word, people all over the world are trying to convince you to think as they do.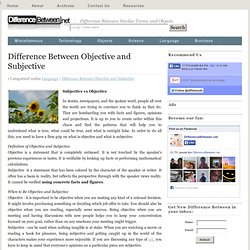 They are bombarding you with facts and figures, opinions and projections. It is up to you to create order within this chaos and find the patterns that will help you to understand what is true, what could be true, and what is outright false. In order to do all this, you need to have a firm grip on what is objective and what is subjective. Definition of Objective and Subjective Objective is a statement that is completely unbiased. Whoops! In 2008, talk show host Sean Hannity declared, "Journalism (the unbiased reporting of the facts) in America is Dead."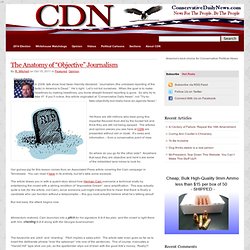 He's right. Let's not kid ourselves. When the goal is to make headlines by making headlines, you know straight forward reporting is gone. Objectivity and Fairness - Objectivity and fairness in news stories. You hear it all the time – reporters should be objective and fair.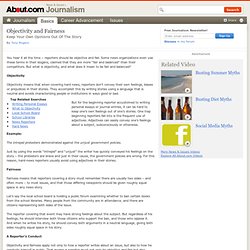 Some news organizations even use these terms in their slogans, claimed that they are more "fair and balanced" than their competitors. But what is objectivity, and what does it mean to be fair and balanced? Objectivity. Language, Politics, and Journalistic Objectivity. UNT talk-Objectivity in Journalism. University of North Texas Nature Writing Symposium talk: "Changing the World One Story at a Time" April 2007 Copyright © 2007 Wendee Holtcamp – bohemian@wendeeholtcamp.com.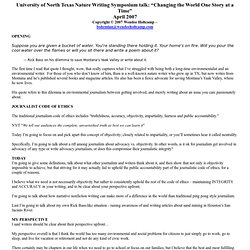 Principles of Journalism. The first three years of the Project's work involved listening and talking with journalists and others around the country about what defines the work.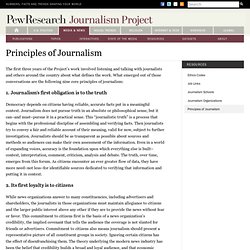 What emerged out of those conversations are the following nine core principles of journalism: 1. Journalism's first obligation is to the truth. Questioning Journalistic Objectivity. Journalism, as we've known it, has been mourned deeply over the last few years.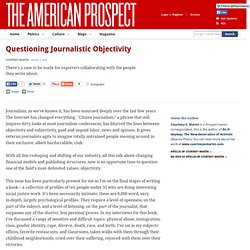 The Internet has changed everything. "Citizen journalism," a phrase that still inspires dirty looks at most journalism conferences, has blurred the lines between objectivity and subjectivity, paid and unpaid labor, news and opinion. It gives veteran journalists agita to imagine totally untrained people messing around in their exclusive, albeit hardscrabble, club. Public Journalism and the Problem of Objectivity. Rethinking Objective Journalism | Media. July 8, 2003 | Like this article?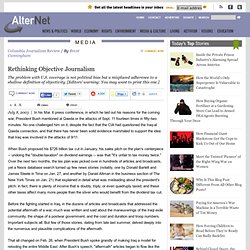 Join our email list: Stay up to date with the latest headlines via email. In his Mar. 6 press conference, in which he laid out his reasons for the coming war, President Bush mentioned al Qaeda or the attacks of Sept. 11 fourteen times in fifty-two minutes. No one challenged him on it, despite the fact that the CIA had questioned the Iraq-al Qaeda connection, and that there has never been solid evidence marshaled to support the idea that Iraq was involved in the attacks of 9/11. Objectivity in Journalism. DAVID BROOKS There is some dispute about whether objectivity can really exist.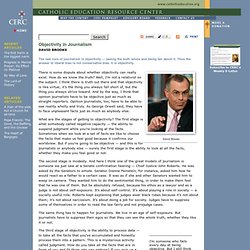 How do we know the truth? Well, I'm not a relativist on the subject. I think there is truth out there and that objectivity is like virtue; it's the thing you always fall short of, but the thing you always strive toward. And by the way, I think that opinion journalists have to be objective just as much as straight reporters. Opinion journalists, too, have to be able to see reality wholly and truly. Objectivity (journalism) Journalistic objectivity is a significant principle of journalistic professionalism. Journalistic objectivity can refer to fairness, disinterestedness, factuality, and nonpartisanship, but most often encompasses all of these qualities.
Definitions[edit] The Myth of Objectivity in Journalism. By This page has been accessed since 29 May 1996. The oft-stated and highly desired goal of modern journalism is objectivity, the detached and unprejudiced gathering and dissemination of news and information. Objectivity. Journalistic Ethics, Objectivity, Existential Journalism, Standpoint Epistemology, and Public Journalism - Journal of Mass Media Ethics - Volume 16. Objective journalism is blamed frequently for all sorts of journalistic failures and weaknesses, but the critiques typically are flawed because their authors fail to understand objectivity or to define it precisely. This defense of objective journalism defines objectivity and suggests that it is indispensable in a free society, summarizes major critiques of and alternatives to objectivity, and proposes that critics and defenders might serve journalism best by seeking common ground.
Related articles View all related articles. Objectivity in Journalism: A Search and a Reassessment.
---