Dresses
Make This Look. Little Red Infinity Dress Tutorial. February 14, 2011 I made this little dress in about 3 hours and for under $20!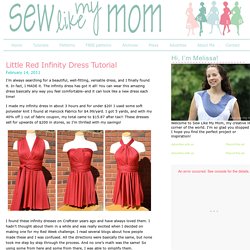 I used some soft polyester knit I found at Hancock Fabrics for $4.99/yard. I got 5 yards, and with my 40% off 1 cut of fabric coupon, my total came to $15.87 after tax!! DIY. Urban Renewal. DIY Shift Dress. Make a Dress from a Button-Down Shirt. If you don't already have an old shirt you can recycle for this purpose, you should be able to find one easily at a thrift store.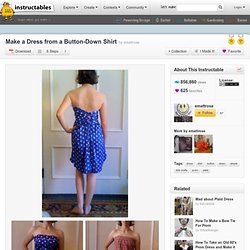 Hold the collar under your arms, and make sure it's long enough that you'll be comfortable wearing it as a dress. Short sleeves are ok, but make sure they're long to reach around your chest and overlap in the back. Also, try and find a shirt that has darts in the middle of the back. If the darts are at the shoulders, it won't fit as well. m1vn8coNiQ1ql7y9bo1_1280.jpg (307×880) DIY: No-sew Beach Cover + How to Use a Pareo/Sarong. Wow!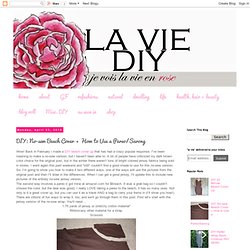 Back in February I made a DIY beach cover up that has had a crazy popular response. I've been meaning to make a no-sew version, but I haven't been able to. A lot of people have criticized my dark brown color choice for the original post, but in the winter there weren't tons of bright colored jersey fabrics being sold in stores. DIY 20 Minute Beach Cover Up. ** NO SEW VERSION CLICK HERE!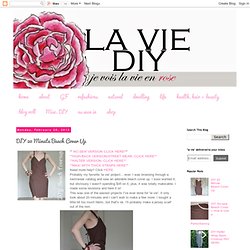 ****HIGH-BACK VERSION/STREET WEAR- CLICK HERE****HALTER VERSION- CLICK HERE****MAXI WITH THICK STRAPS HERE** Need more help? Click HEREProbably my favorite 'la vie' project... ever. I was browsing through a swimwear catalog and saw an adorable beach cover up. I sooo wanted it, but obviously I wasn't spending $45 on it, plus, it was totally make-able. I made some revisions and here it is!
---