News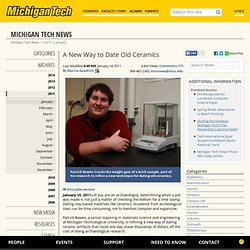 January 10, 2011— If you are an archaeologist, determining when a pot was made is not just a matter of checking the bottom for a time stamp. Dating clay-based materials like ceramics recovered from archeological sites can be time consuming, not to mention complex and expensive. Patrick Bowen, a senior majoring in materials science and engineering at Michigan Technological University, is refining a new way of dating ceramic artifacts that could one day shave thousands of dollars off the cost of doing archaeological research. Called rehydroxylation dating, the technique was recently developed by researchers at the University of Manchester and the University of Edinburgh.
A New Way to Date Old Ceramics | Michigan Tech News
Antropologi.info - sosialantropologi nyheter i Norge, Norden og internasjonalt - blogg og nettmagasin
50 min ago | National Parks Traveler Researchers Say Mesa Verde National Park's Far View Reservoir Wasn't For Water Was "Mummy Lake," now known as Far View Reservoir, really an ancient Anasazi reservoir?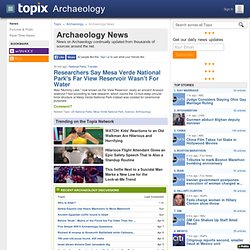 Archaeology News
Mirabilis.ca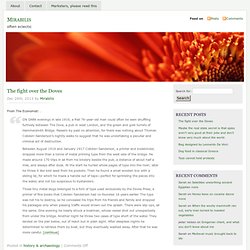 From The Economist: . ON DARK evenings in late 1916, a frail 76-year-old man could often be seen shuffling furtively between The Dove, a pub in west London, and the green and gold turrets of Hammersmith Bridge. Passers-by paid no attention, for there was nothing about Thomas Cobden-Sanderson's nightly walks to suggest that he was undertaking a peculiar and criminal act of destruction.Between August 1916 and January 1917 Cobden-Sanderson, a printer and bookbinder, dropped more than a tonne of metal printing type from the west side of the bridge. He made around 170 trips in all from his bindery beside the pub, a distance of about half a mile, and always after dusk.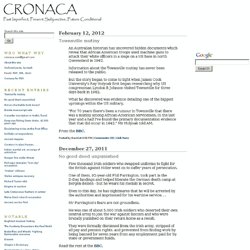 Townsville mutiny An Australian historian has uncovered hidden documents which reveal that African American troops used machine guns to attack their white officers in a siege on a US base in north Queensland in 1942. Information about the Townsville mutiny has never been released to the public.
Cronaca
Fossils & Ruins News
History & Archaeology | From Smithsonian Magazine
Stone Pages • Archaeo News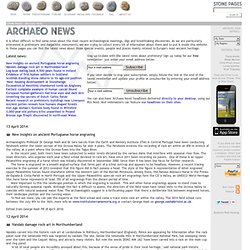 13 April 2014 New insights on ancient Portuguese horse engraving Archaeologists Professor Dr George Nash and Dr Sara Garcês from the Earth and Memory Institute (ITM) in Central Portugal have been conducting fieldwork within the lower section of the Ocreza Valley for over 4 years. The fieldwork involves the recording of rock art within an 850 m stretch of the valley, at a point where the Ocreza flows into the Tagus River. In the recent past, both rivers have been subjected to water levels dictated by the various dams that interfere with seasonal river flow. The team directors, who organise each year a field school devoted to rock art, have since 2011 been recording six panels.
Archaeology News - Fossil News, Archaeological Science, Archaeology, Fossils
Archaeology in Europe News Blog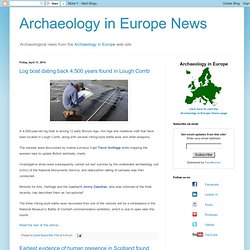 Sweyn Forkbeard (shown left), England's shortest reigning king, remains in the shadows of both his son Canute the Great, and father Harold Bluetooth On Christmas Day 1013, Danish ruler Sweyn Forkbeard was declared King of all England and the town of Gainsborough its capital. But why is so little known of the man who would be England's shortest-reigning king and the role he played in shaping the early history of the nation? For 20 years, Sweyn, a "murderous character" who deposed his father Harold Bluetooth, waged war on England. And exactly 1,000 years ago, with his son Canute by his side, a large-scale invasion finally proved decisive.