News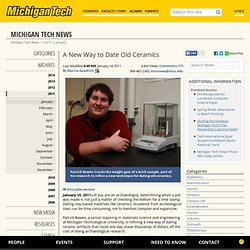 January 10, 2011— If you are an archaeologist, determining when a pot was made is not just a matter of checking the bottom for a time stamp. Dating clay-based materials like ceramics recovered from archeological sites can be time consuming, not to mention complex and expensive. Patrick Bowen, a senior majoring in materials science and engineering at Michigan Technological University, is refining a new way of dating ceramic artifacts that could one day shave thousands of dollars off the cost of doing archaeological research. Called rehydroxylation dating, the technique was recently developed by researchers at the University of Manchester and the University of Edinburgh.
A New Way to Date Old Ceramics | Michigan Tech News
Antropologi.info - sosialantropologi nyheter i Norge, Norden og internasjonalt - blogg og nettmagasin
2 hrs ago | South Florida Sun-Sentinel Skeleton of 2,000-year-old woman unearthed She rested in peace for about 2,000 years until utility crews came shortly before Christmas to install a new waterline on Pine Island Road in Davie.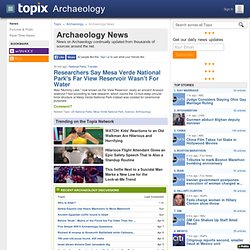 Archaeology News
Mirabilis.ca
Cronaca
Fossils & Ruins News
History & Archaeology | From Smithsonian Magazine
Stone Pages • Archaeo News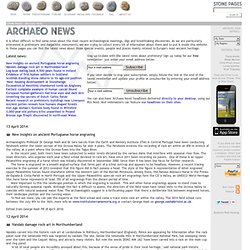 8 January 2014 Eating nuts caused tooth decay in hunter-gatherers Eating nuts and acorns may have helped hunter-gatherers survive 15,000 years ago in northern Africa but the practice wreaked havoc on their teeth, researchers say. Fermented carbohydrates in the nuts caused cavities, tooth decay and bad breath, said the study led by British scientists in the Proceedings of the National Academy of Sciences. The findings offer the earliest evidence of nut harvesting and storage among African hunter-gatherers, and are based on dozens of hole-riddled dental remains found in Morocco's Taforalt Cave. Dental woes have long been believed to originate in later farming cultures some 10,000 years ago, when people began eating processed foods on a wide scale.
Archaeology News - Fossil News, Archaeological Science, Archaeology, Fossils
Archaeology in Europe News Blog