Interior Design
Jasmine's Cove, Estate of the Day. 5 of the World's Weirdest Buildings. Most amazing apartment ever! - MAIYA - MY ADVENTURE IS YOUR ADVANTAGE :: ART / DESIGN / FASHION / DECOR. Ah, jeez.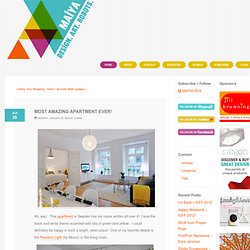 This apartment in Sweden has my name written all over it! I love the black and white theme accented with bits of green and yellow. I could definitely be happy in such a bright, clean place! Interior Inspiration #20. Continuing a series of posts about the best interiors in a week.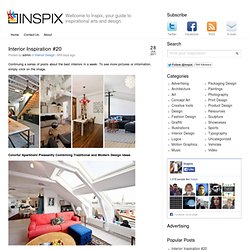 To see more pictures or information, simply click on the image. Colorful Apartment Pleasantly Combining Traditional and Modern Design Ideas Maurice Padovani. Inspiration for artists from Wildfox Couture - I LOVE WILDFOX - Gwyneth Paltrows Apt, Tribeca (Don't cry) Dear Italy, I love you... ♥ Мила Италия, обичам те... | 79 Ideas - a blog about decoration, design, decor, fashion, food and other pretty things.
Have you heard the sentence "Find a beautiful place to get lost"?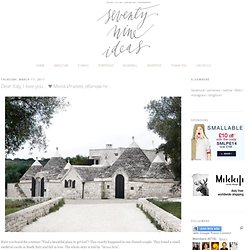 This exactly happened to one Danish couple. They found a small medieval castle in South Italy and fall in love. The whole story is told by "Skona hem". And I can only say that I adore Italy and I absolutely fell in love with this place. It is airy and light and has history in it. A selection of graphic projects.
Pretty Beach House. Miss, miss design, miss-design, missdesign, design, illustration, interior, interior design, style interior, interior old style, workspace, workplace, creative workspace, veranda, garden, balcony, exterior, photography, studio, 3d, typography, blog, person, architecture, arts, creative, layout, design studio, inspire, inspiration, technology, resources, tools, internet tools, discussions, bridal bouquet, font, free font, digital art, logo, logotype, typographic design, tutorial, tutorials, icon, icon tutorial, how to, industrial design, camera lens, canon, nikon, pentax, olympus, books, bookshelves, cupboard, chair, unique style, unique design, unique interior, before and after, benchmark.
The Designer Pad - Straight To The HeART. I consider myself a very crafty person and love everything handmade.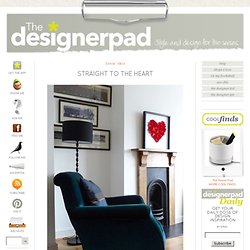 I'm always delighted to see how others use their creativity to transform everyday materials into something unexpected and beautiful. When I stumbled upon these lovely heart pieces in Bloesem I was immediately seduced by them, especially by their sculptural vive. These personalized handmade Hearts are the creation of Brit artist Veronika, founder of the design studio Sarah & Bendrix. The funny thing is that it all started with a piece she made for a friend as a wedding present and everyone started asking about the artist...and the rest is history.
Don't Judge a Book by Its Cover… If you drove by this house in Bedford, NY renovated by Alisberg Parker Architects you'd probably expect the interior to be chock full of traditional classics, right?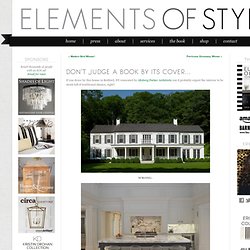 I really do enjoy a home that has a traditional architectural exterior (and interior- notice all thought molding and trim painted over glossy white) paired with really modern furniture. It's so unexpected. And that pool house? I die. Splash Of Colors | Lushlee. I love white decor in the home for a fresh and clean look.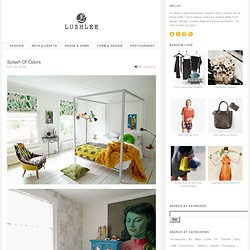 However, when bright colored home furnishings are added and used in the right proportion, they can certainly add charm and personality to any white room! As seen in this Georgian house in Stockwell, from the portfolio of UK-based location agency, Light Locations. I'm especially fond of the clawfoot tub and the blue rustic cabinet against the colorful vintage painting! Closet Office | I have begun to meet up with several of my 555 residents to document some of their downsizing solutions.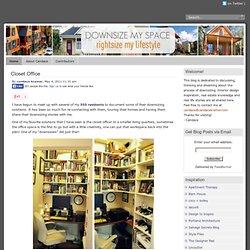 It has been so much fun re-connecting with them, touring their homes and having them share their downsizing stories with me. One of my favorite solutions that I have seen is the closet office! In a smaller living quarters, sometimes the office space is the first to go but with a little creativity, one can put that workspace back into the plan!
Color - Live Like You & Marmalade Interiors. If you have followed this blog for a while you might be familiar with my line "Life is too Short for White walls".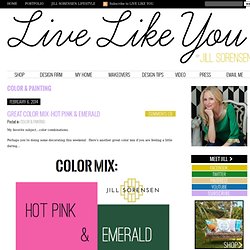 Well ironically, or perhaps to test myself (?) The bungalow rental we are in for the next few months has…yes…only WHITE walls. Small is cool. If you choose to live on your own as a young person (and i say this assuming that you don't earn major bucks or perhaps you live in an expensive city – or both) you will probably be faced with the reality of renting a studio apartment. unless you're an investment banker, or you won the lotto, or your granddad left you a sweet inner city pad the size of an ark that he bought back in 1950 for R500, or you've found some 3 bedroom palace with wooden floors and a working fireplace that's being rented out for tuppence. if you're one of those people, please don't pity me. for i might be jumping on the studio flat bandwagon one of these days, and of course in lieu of that, the first thing i consider is HOW TO DECORATE. zach motl lives in a 178 ft² studio apartment in brooklyn. that's 16m² folks… he's an interior decorator, which explains why his flat looks the way it does.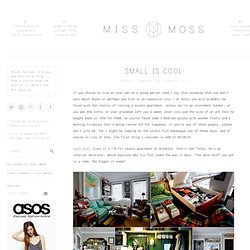 "the more stuff you put in a room, the bigger it seems" Turquoise and Red. Stylish Rooms for Babies. Lately, I've been thinking a lot about time and how quickly it passes. I think that once you have children, time goes by even faster than before. I can't believe that 5 years has gone since our girls were newborns. A lot has happened in that time and we've been extremely blessed all along. It seems like there are quite a few new babies around me these days and I miss that newborn stage a lot. Level Up: Sloped Hillside Home has Super-Slanted Floors.
Stairs and ramps have slopes and slants, but building floors are precision-tuned to be as flat as they can be constructed … right? This topsy-turvy rural dwelling inverts tradition and flips our architectural expectations upside-down – or at least sets them sharply on edge (Photos by Ester Havlova). Usually, building a hillside home means compensating for the exterior slopes – finding places where the natural environment can be adjusted to fit the needs of our flat-footed species. The Designer Pad - Zen-sational. This breathtaking loft is absolutely heavenly, a place to worship white and simplicity. Zen is the perfect word to describe the home of fashion designer Johanne Riis, who had the vision to transform a former warehouse into this incredible five-story multiple space where she now lives and works.
The basement houses her atelier, the ground floor is where her shop and showroom are located, and the remaining three floors are dedicated to the living quarters. Without a doubt, there's a deep feeling of peace and serenity that surrounds all the areas, which are always changing thanks to the ingenious furniture solutions she created — like using ten individual tables to form one larger one for the dining room. Although most of the spaces are bathed in white, the sparce use of red and black tell the perfect story.
Textures
Inner Child: Colorful Home has Trap Doors & Secret Slides. Belle maison. Bedroom Designs: Modern Interior Design Ideas & Photos. A thrifter's paradise. 362285_1232630961_large.jpg (1500×1076)
Dream Bedrooms. Decals, art, textiles, accessories, etc. 20 Cool Home Library Design Ideas. Dramatic Loft Bedrooms for Kids. Tiny victorian cottage « Sharona Design. Revolving Kitchen And Hanging Bed In Stunning 600 Sq. Foot Recycled Cabin.
Cool furniture. Library6.jpg (793×505)
---