Thanksgiving:)
Cranberry Cream Cheese Dip....Hold the Wood Chips. Thanksgiving Cornucopia Treats. A sweet friend made these treats for the women in our church and I thought they were so adorable, I had to share.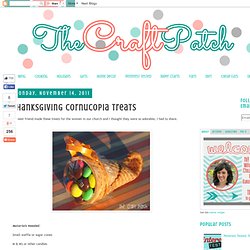 Materials Needed: Small waffle or sugar cones M & M's or other candies Rubber bands Squares of plastic wrap. Oreo Turkeys and Cookie Pilgrim Hats. Scince it's Friday (woo hoo!)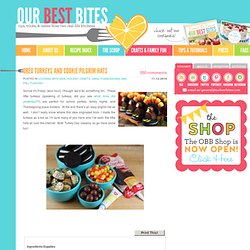 I thought we'd do something fun. These little turkeys (speaking of turkeys, did you see what mine did yesterday??) Are perfect for school parties, family nights, and Thanksgiving place holders. At the end there's an easy pilgrim hat as well. I don't really know where this idea originated from- I made the turkeys as a kid as I'm sure many of you have and I've seen the little hats all over the internet. Thanksgiving. For a whole month of Thanksgiving activities, check out our November reading calendar.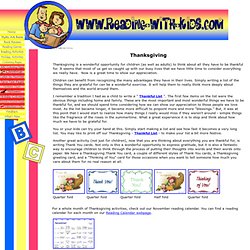 You can find a reading calendar for each month on our Reading Calendar webpage. A Thanksgiving dinner would never be the same if we could truly predict when it will be ready. For adults, this doesn't usually present a problem. This just gives them more time to watch football or enjoy each other's company. For children, however, waiting for dinner to be ready is tedious and annoying.
---