Soups:)
Copy Cat Panera Bread Broccoli Cheese Soup Recipe. Make sure to PIN This Recipe or Repin My whole family loves Panera bread … For some reason especially the coffee.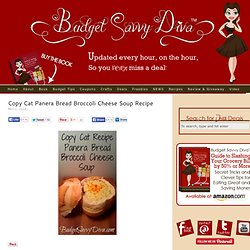 This recipe "warms your soul" as my husband puts it. Very easy to make and full of veggies. Instead of half and half skim milk can be used. Easily made gluten – free by using gluten – free flour. The Hunger Games Feast: Recipes from Panem | Spring Celebrations. Help the odds of throwing a great party be ever in your favor with a little assistance in planning the menu.
Inspired by The Hunger Games, these recipes are sure to resonate long past the evening's cannon fire. Goat Cheese Prim, Katniss' little sister, helped the family survive thanks to the milk from her pet goat. The morning of reaping day, Katniss wakes to find goat cheese wrapped in fresh basil leaves. Bring this delicious appetizer (or breakfast treat!) To your table in one-bite form. Soups. I don't know about y'all, but I'm *kind of* ready for colder weather.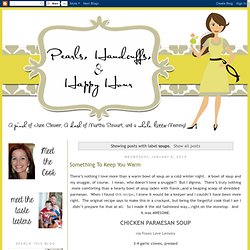 Now, when I say colder, I really mean somewhere in the upper 70's to low 80's. That's just about as cold as I can take it. For real. The weather here in Texas has been less than cool these last few months, so I decided to make some soup the other night to will on the colder weather.
Potato Soups:)
Onion Soups:) Creamy Carrot Soup with Scallions and Poppy Seeds. Frances Janisch total prep Marcia Kiesel's luxuriously creamy soups are the perfect starters for Thanksgivingdinner because they can be made in advance, then reheated and garnished just before serving.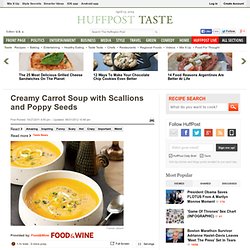 Other ideas are Creamy Parsnip Soup with Prosciutto and Creamy Broccoli Soup with Croutons . 1. Roasted Cauliflower and Aged White Cheddar Soup. Although the winter has been pretty mild so far I have still been enjoying some hearty soups with the most recent one being this roasted cauliflower and aged white cheddar soup.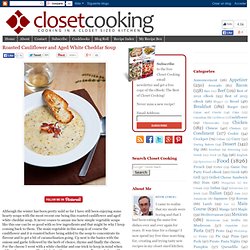 It never ceases to amaze me how simple vegetable soups like this one can be so good with so few ingredients and that might be why I keep coming back to them. The main vegetable in this soup is of course the cauliflower and it is roasted before being added to the soup to concentrate its flavour and to get a bit of caramelization going. Up next is the basics with the onions and garlic followed by the herb of choice, thyme and finally the cheese. For the cheese I went with a white cheddar and one trick to keep in mind when adding cheese to soup like this is that if you use a stronger flavoured cheese like an aged cheddar then you will not need to use as much of it to get the same flavour.
The Italian Dish - Posts - For Tomato Season: Roasted Tomato Soup with Parmesan Crisps. Homemade tomato soup is good, but roasted tomato soup is even better.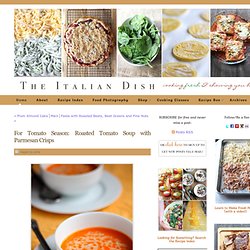 With the abundance of tomatoes right now in the markets, this makes great use of all those tomatoes and may be the best tomato soup you will ever have. This method calls for roasting the tomatoes, along with some whole garlic, before making the soup. Roasting the tomatoes concentrates their flavor and adds a depth to the soup that you would not have otherwise. I used beautiful San Marzano tomatoes for this soup because a vendor at my farmer's market had them.
---