Rolls:)
Pumpkin Spiced Cream Cheese Breakfast Rolls. Good Monday morning!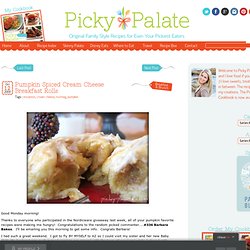 Thanks to everyone who participated in the Nordicware giveaway last week, all of your pumpkin favorite recipes were making me hungry! Congratulations to the random picked commenter…..#336 Barbara Bakes. I'll be emailing you this morning to get some info. Congrats Barbara! I had such a great weekend. Sticky Lemon Rolls with Lemon Cream Cheese Glaze | Apartment Therapy The Kitchn. Have you ever wondered what cinnamon rolls would taste like, sans cinnamon?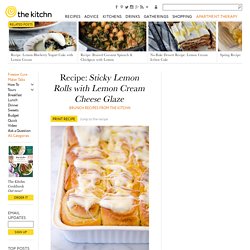 Why aren't there more recipes for sticky, gooey, and sweet breakfast rolls without cinnamon or caramel? There are so many other wonderful options! I was craving a buttery, flaky breakfast bun with the sweet, tangy, taste of lemon — so I made one up. Something Shiny: Pumpkin Yeast Bread — Three Ways. Easy Cheese Danish. This is a quick and easy recipe for cheese danish that my family simply adores.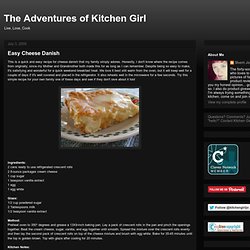 Honestly, I don't know where the recipe comes from originally, since my Mother and Grandmother both made this for as long as I can remember. Despite being so easy to make, it's satisfying and wonderful for a quick weekend breakfast treat. Pretzel Rolls. Update 11/18/2011: I have not had the opportunity to make this recipe since this posting until today.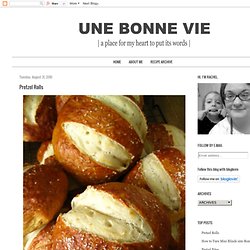 I have read through the comments and appreciate all of them. I am not sure if I originally recorded my measurements inaccurately or what happened. Please know, I am not a professional baker and do my best to experiment and record my recipes with three amazing, but often distracting, children at my heels. Cinnamon Roll Cupcakes. These cinnamon roll cupcakes are just too cute!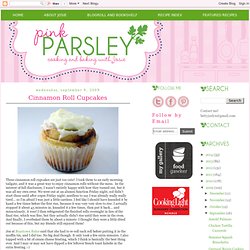 I took them to an early morning tailgate, and it was a great way to enjoy cinnamon rolls without the mess. In the interest of full disclosure, I wasn't entirely happy with how they turned out, but it was all my own error. We were out at an alumni function Friday night, soI didn't start these until after 10pm Friday night; needless to say I was already really really tired... so I'm afraid I was just a little careless. I feel like I should have kneaded it by hand a few times before the first rise, because it was very very slow to rise. I actually stopped it about 45 minutes in, kneaded it a few times, then put it back... and miraculously, it rose! Simple Cream Cheese Danish - Food Lush. By Erica I've mentioned that I'm entering the Pillsbury Bake-Off and this means I'm experimenting with recipes all over the place.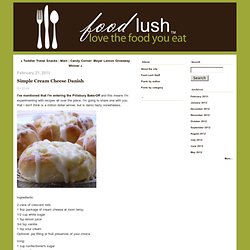 I'm going to share one with you that I don't think is a million dollar winner, but is damn tasty nonetheless. Ingredients: 2 cans of crescent rolls1 8oz package of cream cheese at room temp.1/2 cup white sugar1 tsp lemon juice3/4 tsp vanilla1 tsp sour creamOptional: pie filling or fruit preserves of your choice. Easy Blackberry and Cream Cheese Danish. This recipe took just a couple of minutes to throw together, but tastes like it came straight from a pastry shop.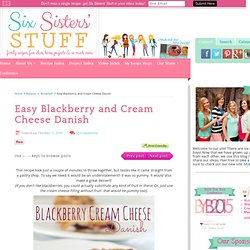 To say we loved it would be an understatement!! It was so yummy. Sticky Lemon Rolls with Lemon Cream Cheese Glaze. They are modeled after the classic cinnamon roll, and partially inspired by this bread, with a buttery yeast dough flecked with nutmeg and lemon.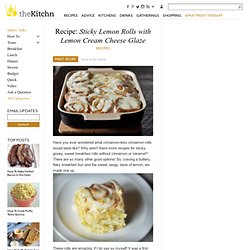 But inside each roll is a rich filling of sugar and lemon that bakes into gooey, oozey sweet-tart deliciousness. The cream cheese glaze puts it over the top, with more lemon tartness and not too much sweetness. 8 Minute Mini Cinnamon Rolls. Mini Cinnamon Rolls are ready in under 10 minutes.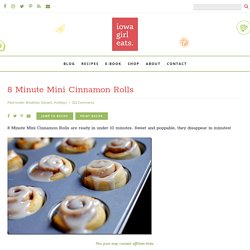 Sweet and poppable, they disappear in minutes! We've got tons of Thanksgiving traditions in my family that I look forward to every year: Sipping mimosas while watching the Macy's Thanksgiving Day Parade. Someone throwing a fit about losing at Scrabble, fueled by the aforementioned mimosas. Apple braid. Hi all, I'm Rachael from La Fuji Mama and am tickled to have been asked by Jenna to share one of my crazy concoctions here on Eat, Live, Run!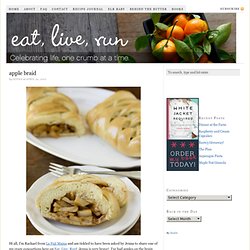 Jenna is very brave! I've had apples on the brain lately, partially due to these three handsome little fellas sitting on my counter top waiting for me to decide what they would become.
---