Potatoes:)
Garlic-y Mashed Potato Cakes with Raspberry Ginger Mustard Chutney. If there were no such thing as calories, this is the food I would eat every day.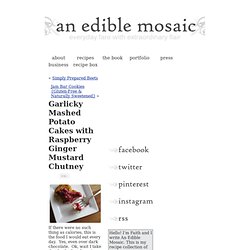 Yes, even over dark chocolate. Ok, wait I take that back, that doesn't count! (A girl needs her chocolate.) But still, if every food was healthy (or equally unhealthy), this would surely be a staple in my life. Thanksgiving Leftovers Recipe: Mashed Potato Puffs | Apartment Therapy The Kitchn. Crack Potatoes. One of our favorite dips is Cheddar Bacon Ranch dip, or what I refer to as "Crack".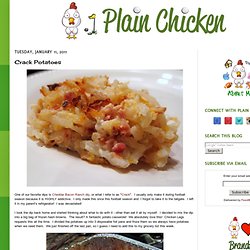 I usually only make it during football season because it is HIGHLY addictive. I only made this once this football season and I forgot to take it to the tailgate.
Pierogi:) Easy Oven Roasted Potatoes. I served these potatoes with our Honey Lime Chicken.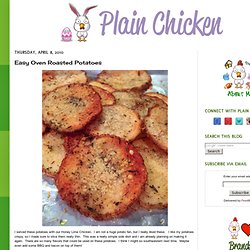 I am not a huge potato fan, but I really liked these. I like my potatoes crispy, so I made sure to slice them really thin. Crash Hot Sweet Potatoes. Homemade Tater Tots. I am a little in shock right now.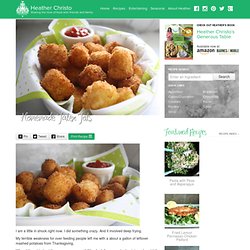 I did something crazy. And it involved deep frying. My terrible weakness for over feeding people left me with a about a gallon of leftover mashed potatoes from Thanksgiving.
---