Mug Cakes:)
5-minute Chocolate Cake. There are a lot of 5-minute cake-in-a-mug recipes out there, but I've taken the time to experiment with eight variations on a a recipe to come up with the best, tastiest, and most reliable 5-minute chocolate cake on the web.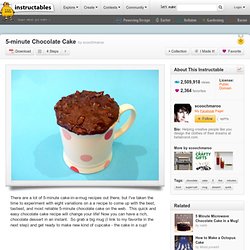 This quick and easy chocolate cake recipe will change your life! Now you can have a rich, chocolate dessert in an instant. So grab a big mug (I link to my favorite in the next step) and get ready to make new kind of cupcake - the cake in a cup! 3 Ingredients, 60 Seconds: Gooey Chocolate Mug Cake. It's Monday.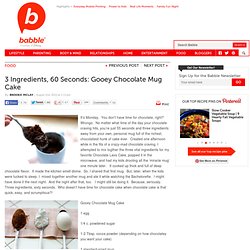 You don't have time for chocolate, right? Wrongo. No matter what time of the day your chocolate craving hits, you're just 55 seconds and three ingredients away from your own, personal mug full of the richest, chocolatiest hunk of cake ever. Created one afternoon while in the fits of a crazy-mad chocolate craving, I attempted to mix togther the three vital ingredients for my favorite Chocolate Lava Cake, popped it in the microwave, and had my kids drooling all the 'miracle mug' one minute later.
---