Macaroni & Cheese:)
Panera's Stove Top Mac and Cheese. Have you had Panera's Signature Mac and Cheese yet?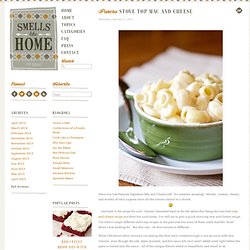 It's insanely amazing! Velvety, creamy, cheesy, and worthy of only a spoon since it's the closest utensil to a shovel. Cheesy Macaroni and Cheese. I am going to call this our go-to mac and cheese.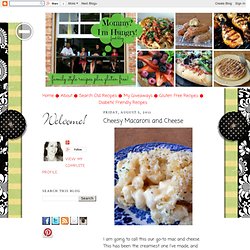 This has been the creamiest one I've made, and that's how I like it. Other baked mac n cheeses tend to come out dry and are horrible for leftovers, not this. Not-Your-Average Mac and Cheese. Nearly every mac and cheese recipe you will ever encounter starts with a white sauce.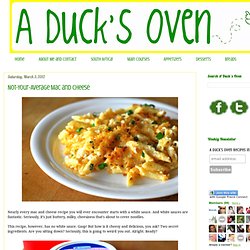 And white sauces are fantastic. Seriously, it's just buttery, milky, cheesiness that's about to cover noodles. This recipe, however, has no white sauce. Gasp! But how is it cheesy and delicious, you ask? The Very Popular…Moni's Quinoa Mac N' Cheese | Monica Nelson Fitness. Best Stove Top, One Pot Macaroni and Cheese Recipe. Update: Try this "healthier" version of Broccoli Mac and Cheese.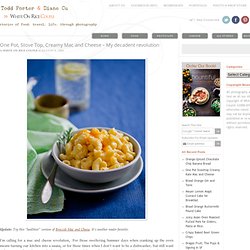 It's another reader favorite. I'm calling for a mac and cheese revolution. For those sweltering Summer days when cranking up the oven means turning our kitchen into a sauna, or for those times when I don't want to be a dishwasher, but still want to have a satisfying home cooked meal, I need a meal that can be cooked fairly quickly and efficiently. I know Todd and I aren't the only ones who come home from a hectic work day and ask that one universal question "What are we going to cook for dinner?" Enter the solution and what I call, my mac and cheese revolution: the One Pot, Stove Top, Creamy Macaroni and Cheese recipe. Skinny Baked Broccoli Macaroni and Cheese. Cheesy macaroni and broccoli are topped with bread crumbs and baked to perfection.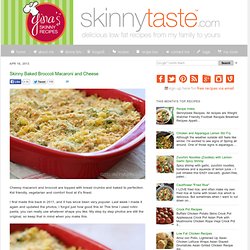 Kid friendly, vegetarian and comfort food at it's finest. I first made this back in 2011, and it has since been very popular. Macaroni and Cheese – Panera Style | Victory or Death in the Kitchen. February 28th, 2010 A while back I posted about how I love Panera's macaroni and cheese.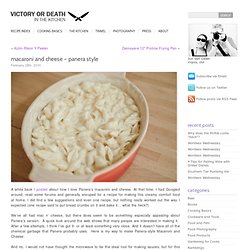 At that time, I had Googled around, read some forums and generally snooped for a recipe for making this creamy comfort food at home. I did find a few suggestions and even one recipe, but nothing really worked out the way I expected (one recipe said to put bread crumbs on it and bake it… what the heck?)
---