Friendship Bracelet:)
Bead Landing™ Hemp Friendship Bracelets
Today's DIY project is inspired by one of my favorite things to do to my hair in the summer – the fishtail braid. (The Beauty Department has an easy tutorial and A Cup of Jo has a fun twist on it – check them out.) The end result is snazzier than a classic braid, but considerably easier to make than a classic knotted friendship bracelet, with the same chevron pattern. My personal favorite is to use a bunch of similar shades for an ombre effect, but you can really do anything… get creative! {All you need for this project is some embroidery floss. Also, the tiny delicate bracelet is a new fave from gorjana.}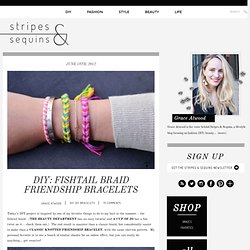 Fishtail Braid Friendship Bracelets
teahab: Tutorial Tuesday
To celebrate the launch of Checkmybox later this month we are re posting our most popular tutorials all throughout this month, and as it happens they will be our first range of kit designs. So if you like any of the tutorials over the next four weeks and are struggling to find the right materials and findings keep your eyes open for our kits that will be available exclusively in Mr Birds Emporium at the Custard Factory, Birmingham from 15th November, and online shortly afterwards (date to be confirmed). We'll be updating you with the website details soon and keeping you up to date on our progress as we actually make some!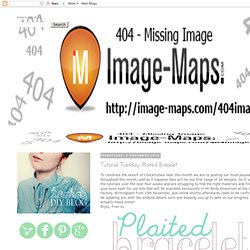 6 Strand Braid Tutorial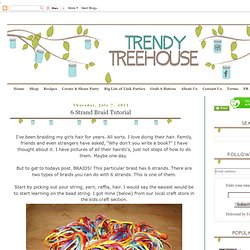 I've been braiding my girls hair for years. All sorts. I love doing their hair.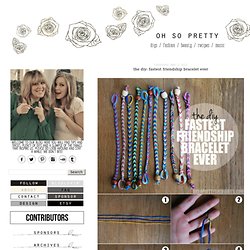 We were super excited to share the Fishtail Friendship bracelet tutorial with you and we are even more excited to share that we've found an easier way to do it. Don't get me wrong, I will still use the original technique to create more intricate designs but, this new tutorial is so quick you will end up wanting to make one in every color combination possible (like we did!)
Wish Bracelets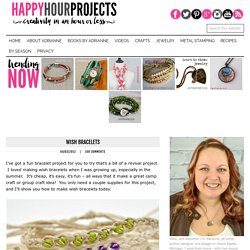 In trying to be better about working out of my stash, I am finding all kinds of fun stuff to play with. Some new ideas, some oldies but goodies. This one is an old idea, but one that I loved when I was growing up! It's been like 20 years since I used to make these, so I am just going to say, I feel they're due for a comeback. Can I declare such a thing? It's similar to a friendship bracelet, and makes up really quickly (I did this short stack in an hour).
Before I get into the how-to, check out this picture I shamelessly screen-grabbed from Sara Zucker's Pose account. That's my wrist early on Day 1 of MAGIC.
DIY Colorful Leather Friendship Bracelets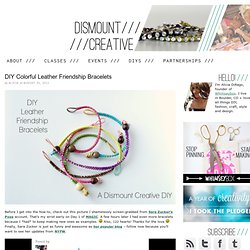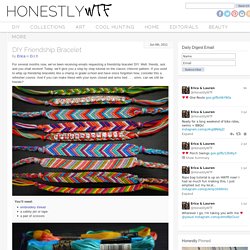 For several months now, we've been receiving emails requesting a friendship bracelet DIY. Well, friends, ask and you shall receive! Today, we'll give you a step by step tutorial on the classic chevron pattern.
Woven Friendship Bracelet Tutorial
When M. came home from her camp with school, she showed me this yellow bracelet she made with 'scoubidoo' strings. One of her friends taught her how to make these and of course I wanted to have a go at it too.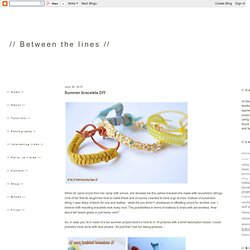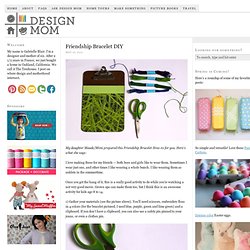 Friendship Bracelet DIY
My daughter Maude/Mimi prepared this Friendship Bracelet How-to for you. Here's what she says: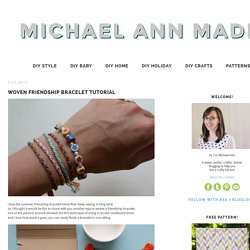 i love the summer friendship bracelet trend that i keep seeing in blog land, so i thought it would be fun to share with you another way to weave a friendship bracelet. one of the parents at work showed me this technique of using a circular cardboard loom and i love how quick it goes, you can easily finish a bracelet in one sitting.