Finger Foods:)
Baked cheese balls. OK, so we did the experiment with the egg roll wrappers and string cheese to make baked cheese sticks and they turned out alright...but nothing to write home about.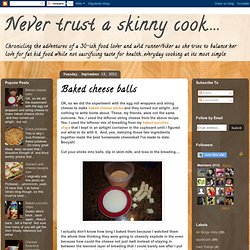 These, my friends, were not the same outcome. Yes, I used the leftover string cheese from the above recipe. Yes, I used the leftover mix of breading from my baked zucchini chips that I kept in an airtight container in the cupboard until I figured out what to do with it. Asparagus and Cheese Crescent Rolls. Once Upon a Plate: Olive Penguins! Garlic Cheese Wontons. By Brooke McLay | Looking for the newest appetizers worth craving?
These garlic & mozzarella are to.die.for. Like, grab yourself a vat of awesome and dunk yourself in there for permanent. They are absolutely incredible. Better yet, they are absolutely as easy as can be to whip up in your kitchen. Mozzarella Sticks Recipe.
---