Cookies:)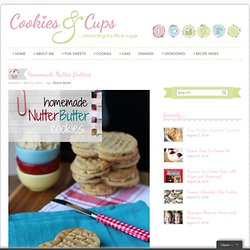 There is no reason to make these cookies. No reason at all. Honestly, Nutter Butter cookies are perfection in their current, packaged gloriousness. Ask my husband, he'll tell you. He is way more fond of boxed-mix-cake than the from-scratch variety, he likes his pizza dough from a can versus the homemade alternative and while he LIKED these Nutter Butter-substitutes, he could care whether I took the time to make them, or if I just opened the plastic packaging.
Homemade Nutter Butters
Jam Kolaches Recipe
Landee See, Landee Do: Meltaway Cookies
Peanut Butter and Corn Chip No Bake Cookies
This is one of those crazy recipes I just had to give a try. My friend Alice shared this super simple no bake cookie recipe with me. Kookie Cookies 1 package (9.75 to 10.5 ounces) corn chips 1 cup light corn syrup 1 cup sugar 1 cup creamy peanut butter Spread corn ships in a greased 15 in x 10 in by 1 in baking pan. In a saucepan over medium heat, bring corn syrup and sugar to a boil, stirring frequently to help dissolve the sugar.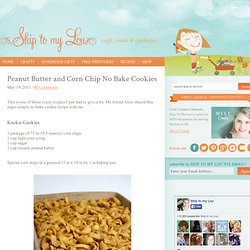 Sugar Cookie Squares with White Chocolate Raspberry Cheesecake Frosting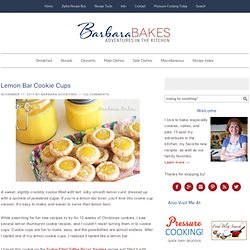 A sweet, slightly crumbly cookie filled with tart, silky smooth lemon curd, dressed up with a sprinkle of powdered sugar. If you're a lemon bar lover, you'll love this cookie cup version. It's easy to make, and easier to serve than lemon bars. While searching for fun new recipes to try for 12 weeks of Christmas cookies, I saw several lemon thumbprint cookie recipes, and I couldn't resist turning them in to cookie cups.
Lemon Bar Cookie Cups Recipe
ADDICTED to VEGGIES: Coconut-Lemon Meltaways
Whew! It's good to be back and even better to be toting a recipe that I'm super excited and proud of! Originally I thought about making these cookies after purchasing something very similar at my local grocery store a couple weeks ago.