Cookies:)
Homemade Nutter Butters. Jam Kolaches Recipe. Landee See, Landee Do: Meltaway Cookies. Peanut Butter and Corn Chip No Bake Cookies. This is one of those crazy recipes I just had to give a try.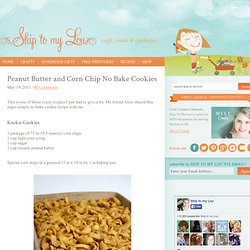 My friend Alice shared this super simple no bake cookie recipe with me. Kookie Cookies 1 package (9.75 to 10.5 ounces) corn chips 1 cup light corn syrup 1 cup sugar 1 cup creamy peanut butter Spread corn ships in a greased 15 in x 10 in by 1 in baking pan. In a saucepan over medium heat, bring corn syrup and sugar to a boil, stirring frequently to help dissolve the sugar. Sugar Cookie Squares with White Chocolate Raspberry Cheesecake Frosting.
I just can't get enough of the sugar cookie squares!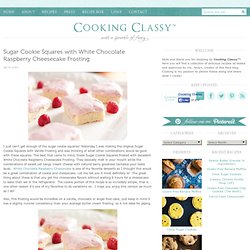 Yesterday I was making the original Sugar Cookie Squares with Vanilla Frosting and was thinking of what other combinations would be good with these squares. The best that came to mind, these Sugar Cookie Squares frosted with decadent White Chocolate Raspberry Cheesecake Frosting. They basically melt in your mouth while the combinations of sweet yet tangy cream cheese with natural berry goodness tantalize your taste buds.
White Chocolate Raspberry Cheesecake is one of my favorite desserts so I thought this would be a great combination of cookie and cheesecake. Lemon Bar Cookie Cups Recipe. A sweet, slightly crumbly cookie filled with tart, silky smooth lemon curd, dressed up with a sprinkle of powdered sugar.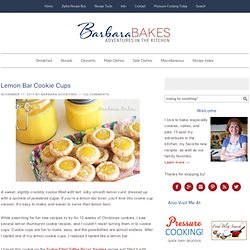 If you're a lemon bar lover, you'll love this cookie cup version. It's easy to make, and easier to serve than lemon bars. While searching for fun new recipes to try for 12 weeks of Christmas cookies, I saw several lemon thumbprint cookie recipes, and I couldn't resist turning them in to cookie cups. Coconut-Lemon Meltaways. Whew!
It's good to be back and even better to be toting a recipe that I'm super excited and proud of! Originally I thought about making these cookies after purchasing something very similar at my local grocery store a couple weeks ago.
---