Breakfast;)
Tartelette. Happy Valentine's Day to all of you!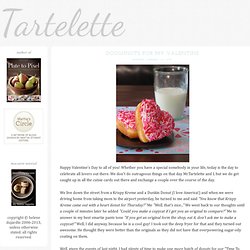 Whether you have a special somebody in your life, today is the day to celebrate all lovers out there. We don't do outrageous things on that day Mr.Tartelette and I, but we do get caught up in all the cutsie cards out there and exchange a couple over the course of the day. We live down the street from a Krispy Kreme and a Dunkin Donut (I love America!) And when we were driving home from taking mom to the airport yesterday, he turned to me and said "You know that Krispy Kreme came out with a heart donut for Thursday? " The Tidy Nest: Freezer Smoothies. We have been enjoying smoothies for breakfast this summer.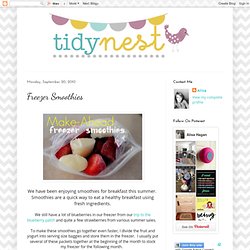 Smoothies are a quick way to eat a healthy breakfast using fresh ingredients. We still have a lot of blueberries in our freezer from our trip to the blueberry patch and quite a few strawberries from various summer sales. To make these smoothies go together even faster, I divide the fruit and yogurt into serving size baggies and store them in the freezer. Beautiful Bacon, Egg, & Cheese Wreath & The Inspiration Behind It All Steelmom. While watching videos for the new Kraft Cooking Creme, at the Real Women of Philadelphia, I came across this recipe I found so intriguing.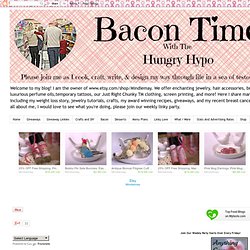 The RWoPer that inspired me to make this wreath is known as "Steelmom". For me, her nickname has always been perfect for her, since she is someone I admire for being a hard working mother inside and outside of the home. She must be made of steel to do all that she does, working full time as a sales representative for a steel mill, raising a family, and not to mention creating the most beautiful hand painted ornaments. Her wonderful recipe and how to video for her Santa Fe Breakfast Ring can be found at the link below.
Breakfast Pockets. These are just awesome.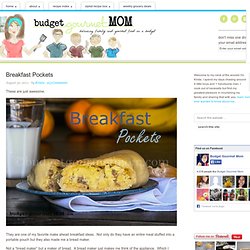 They are one of my favorite make ahead breakfast ideas. Not only do they have an entire meal stuffed into a portable pouch but they also made me a bread maker.
Rolls:) Egg Bakes:) Muffins:) 10 Healthy Breakfasts in 10 minutes or Less « Keep Your Diet Real. These breakfasts can be made in 10 minutes or less.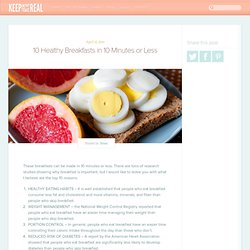 There are tons of research studies showing why breakfast is important, but I would like to leave you with what I believe are the top 10 reasons.
---