Braided Chain Bracelet:)
Live In Art: Braided Bead Jewelry: DIY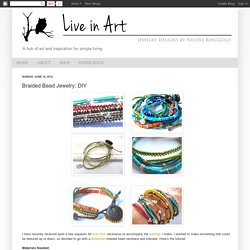 I have recently received quite a few requests for river rock necklaces to accompany the earrings I make. I wanted to make something that could be dressed up or down, so decided to go with a Bohemian braided bead necklace and bracelet. Here's the tutorial: Materials Needed: 3 yards of waxed linen cord 140-150 size 8/o seed beads (I actually use size 11/o seed beads, but they're really little) a 10-13mm 2-hole button or necklace clasp scissors Directions: 1.
Due to both impulsive buying and people wise to my crafty ways, I have a lot of beads, charms and other jewellery-related bits and bobs floating around my room. So when I saw a gorgeous bracelet on Forever 21's website, I found something I just had to make my own version of! Here's mine:
Tutorial: Religion Bracelet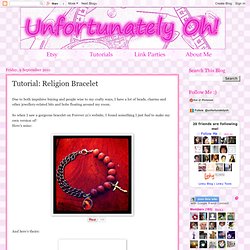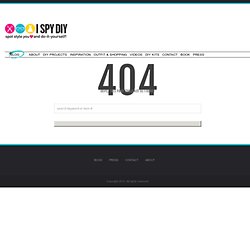 Just when I thought my wrists could not get any heavier, I added a couple new chain bracelets to the mix. I have officially ungraded my #wristaction! (as coined by my friend at brunch this week) Supplies: 3 yards suede rope, 1 foot of chain, 1 lobster clasp, 3 jump rings, pliers (optional superglue)
Here's the second DIY I led with with BurdaStyle direct from the MAGIC floor. We did these bracelets on Wednesday, the final day of the show. It was a perfect project to wrap-up with because it was fast and easy. I think we were all feeling a little bit like the walking dead after spending the 4 days running around Las Vegas 20 hours a day. Photo courtesy BurdaStyle The supplies are simple: chain + ribbon.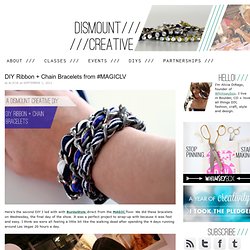 Posted by Cathy on Wednesday, June 13, 2012 · 5 Comments I love big bracelets and I cannot lie! This DIY ribbon and chain bracelet looks so awesome worn either alone or stacked with all your other faves. It's a great addition to your accessories for Summer. The pinks and green on this bracelet add a fresh look to all your Summer whites and also looks great with denim.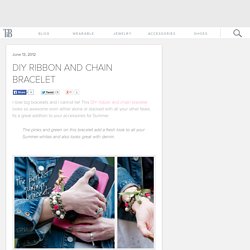 Sumo's Sweet Stuff: .:Tutorial Tuesday–Braided Chain Bracelet:.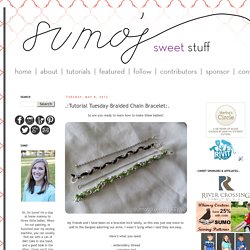 So are you ready to learn how to make these babies? My friends and I have been on a bracelet kick lately, so this was just one more to add to the bangles adorning our arms. I wasn't lying when I said they are easy.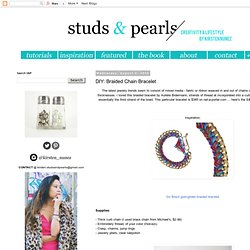 The latest jewelry trends seem to consist of mixed media - fabric or ribbon weaved in and out of chains of all different colors and thicknesses. I loved this braided bracelet by Aurélie Bidermann; strands of thread at incorporated into a curb chain, so that the chain is essentially the third strand of the braid. This particular bracelet is $385 on net-a-porter.com ... here's the S&P way, for much cheaper! Inspiration: