Bracelets
Step 1: Straighten a 4 1/8 inch segment of 18 gauge soft wire. (20 gauge wire can be used but the resulting bracelet won't be as bold.) Step 2: Cut the wire to a length of 4 1/8 inches. Step 3: Using your Fine Step Jaw Pliers, make a "P" loop in the wire. If you don't have Fine Step Jaw Pliers, you can make your loop using round nose pliers. Step 4: Now we are going to make the Crazy 8 wire component.
Crazy 8 Wire Bracelet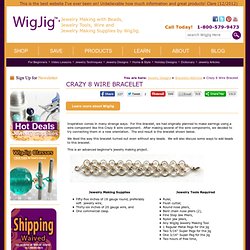 Earlier this month, I shared a tutorial over at What Meegan Makes on a simple, beachy bracelet that doesn't take anything but some cotton twine and a shell (or another summery focal piece). Did you see this already? If not – let me show you today!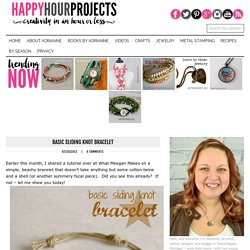 Basic Sliding Knot Bracelet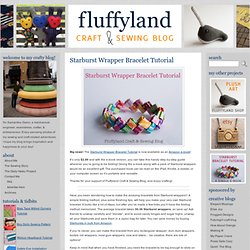 Big news! The Starburst Wrapper Bracelet Tutorial is now available as an Amazon e-book It's only $2.99 and with the e-book version, you can take this handy step-by-step guide wherever you're going to be folding! Giving the e-book along with a pack of Starburst wrappers would be an excellent gift. The purchased book can be read on the iPad, Kindle, e-reader, or your computer screen so it's portable and versatile.
By Kate on September 13, 2011 This bracelet has been inspired by this really wonderful "Braided Hex-nut Bracelet" tutorial which I pinned on Pinterest a while back. Two things I absolutely love about this project are: 1) It's cheap as chips: I already had string in the cupboard and the brass hexnuts were 3p each from the hardware shop. 2) It's my kind of jewellery: I'm not really a girly girl IYKWIM! The bracelet I made is a bit different to the 'braided hex-nut bracelet' and uses macrame instead, which is great, because I promised some tutorials a while back and felt a bit bad that I hadn't written any yet!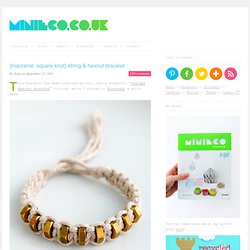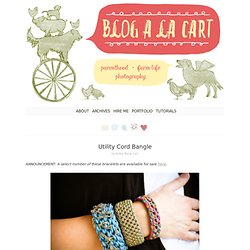 ANNOUNCEMENT: A select number of these bracelets are available for sale here. I know, I know. ENOUGH ALREADY WITH THE UTILITY CORD AND BRACELETS! I couldn't resist! I had extra utility cord lying around from last week's project, and was highly inspired by these Orly Genger bangles. Thus, today's latest DIY accessory.
Chain Mail Beaded Charm Bracelet
If you grew up in the 80's, like I did, you're probably already familiar with the awesomeness that is Shrinky Dinks...but did you know that you can still buy Shrinky Dinks? Yep, they're still out there - in craft stores, hobby shops, and even on Amazon. But you don't have to buy a Shrinky Dink kit to have all the fun. Just look for #6 plastic containers and you can make your own! There is a great tutorial on Instructables (courtesy of Dabbled) with all the instructions for making your own shrinky projects from #6 plastic containers, so I won't go into too much detail here.