Info
I don't think we will ever see a Sin City 2, but I guess I should never say never. All the same, it won't be coming anytime soon – Robert Rodriguez has such a full slate, including the ever-expanding list of projects he's producing but not directing. The latest project to be linked to him is the mysterious Nerveracker.
Nerveracker is Coming - Will Robert Rodriguez Be Directing?
Should I See That?
... of my review, AND of the movie I reviewed. So???? - Do you think I'm spot on with my review or do you think I'm way off base?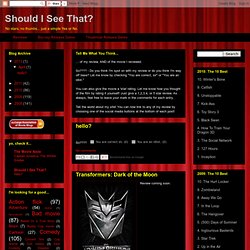 Search results for natural history museum
PGCE ICT Table of Contents
Windows Resources
Firefox Themes
Information Commissioners Office
The AFU & Urban Legends Archive
Church of the Swimming Elephant