Films 1
Memento - Special Edition (3 Discs) From director Christopher Nolan, a unique and intriguing thriller that begins with the ultimate act of revenge and backtracks through time to reveal the shocking and provocative reasons behind it.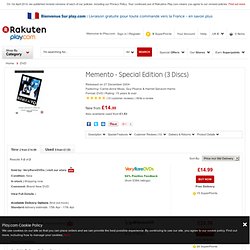 Leonard Shelby (Guy Pearce) remembers everything up to the night his wife was brutally raped and murdered. But since that tragedy, he has suffered from short-term memory loss and cannot recall any event, the places he has just visited or anyone he has met just minutes before. Determined to find out why his wife was killed, the only way he can store evidence is on scraps of paper, by taking Polaroid photos and tattooing vital clues on his body.
Throughout his investigation, he appears to have the help of both bartender Natalie (Carrie-Anne Moss), who may have her own secret agenda and police officer Teddy (Joe Pantoliano) whose friendship is always suspect. Folding Suction Tip Reacher - Reaching Aids, Grabbers, Folding Reacher, Litter Pickers and Pick up Reachers from Handy Healthcare. Welcome to Handy Healthcare, the UK's top supplier of mobility aids and equipment.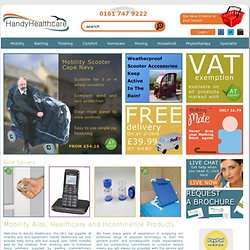 Handy Healthcare not only provide daily living aids but supply over 5000 mobility aids for the disabled, from drinking aids to individual living solutions supplied by leading manufacturers including; Patterson Medical, Able2, Drive Medical, Simplantex and Sheerlines. Handy Healthcare are a trusted member of the department of health's new TCES (Transforming Community Equipment Services) Scheme. This means that you can conveniently redeem your mobility aids and equipment prescriptions online without hassle or fuss and have the items sent straight to your home.
Fearless / Unleashed (aka: Danny The Dog) (Jet Li) Fearless: Inspired by the life of Huo Yuan Jia, a real Chinese martial arts master at the turn of the century, Jet Li takes the title role in his final martial arts epic with action sequences choreographed once again by the legendary Yuen Woo-Ping.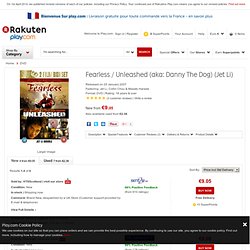 Unleashed: Written and produced by Luc Besson, and directed by Louis Leterrier, Unleashed features a fantastic performance from martial arts superstar, Jet Li. On and beneath the mean streets of Glasgow, fiery gangster Bart (Hoskins) is merciless with debtors, would-be rivals and anyone else he takes a passing dislike to. Princess Bride interactive | Games | Guardian Unlimited. Renaissance (Animated) Paris 2054.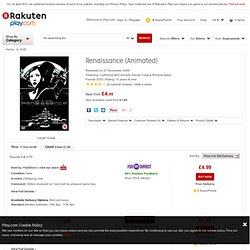 Live forever or die trying. In 2054, Paris is a labyrinth where all movement is monitored and recorded. Casting a shadow over everything is the city's largest company, Avalon, which insinuates itself into every aspect of contemporary life to sell its primary export - youth and beauty. In this world of stark contrasts and rigid laws the populace is kept in line and accounted for. Prophecy 1 / Prophecy 2 / Prophecy 3 - Box Set. The Prophecy: Christopher Walken leads an extraordinary cast including Eric Stoltz, Virginia Madsen, Elias Koteas, Amanda Plummer and Viggo Mortensen in a terrifying, supernatural thriller of heavenly war waged on Earth by renegade angels.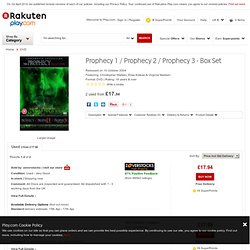 When Thomas Daggett (Elias Koteas) falls victim to confusing and horrific dreams, he abandons the church at his ordination into the priesthood. Years later as a homicide detective assigned to a grisly murder case, he discovers a series of clues with dark religious overtones. Then begins a race against time to prevent the dead man's evil soul from falling into the hands of Gabriel (Christopher Walken) who seeks to take control of Heaven from God and destroy humanity itself. 55 Must See Movies of 2008. What movies will you be seeing in 2008?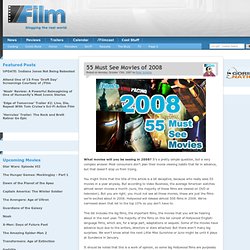 It's a pretty simple question, but a very complex answer. Most consumers don't plan their movie viewing habits that far in advance, but that doesn't stop us from trying. You might think that the title of this article is a bit deceptive, because who really sees 55 movies in a year anyway. 70s fast-rewind. Harrison Ford Web - Latest movie news and photos plus an extensive archive. DVD Times - Blade Runner: The Final Cut (R1) in December - Giftset Art Added. We'll let the press release do the talking...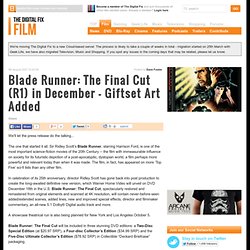 The one that started it all. Sir Ridley Scott's Blade Runner, starring Harrison Ford, is one of the most important science-fiction movies of the 20th Century -- the film with immeasurable influence on society for its futuristic depiction of a post-apocalyptic, dystopian world, a film perhaps more powerful and relevant today than when it was made. Dark Horizons - Movie Trailers, TV Guide, Movie Reviews, Celebrity Interviews, Entertainment News. Zone Of The Enders - Dolores Vol.1. Average rating (1 review) I first encountered the ZOE franchise after playing the game of the same name on the ps2.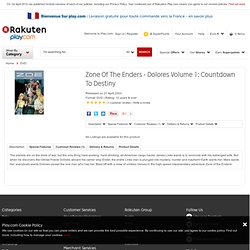 I wanted to expand my anime dvd collection also and so i bought this dvd...admittedly mainly because of the cheap price of £5! I have to say i was very impressed, theres a lot of substance to the story and characters. Heroes TV Show on NBC: NBC Official Site. Online quizzes, the best collection of web quiz games - The Office Attachments. BBC News | UK | How much of Blade Runner has come true? We love to look for echoes of our present in the sci-fi films of the past.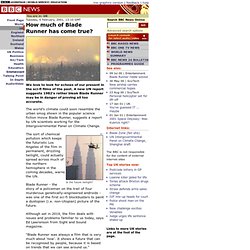 A new UN report suggests 1982's rather bleak Blade Runner may be in danger of proving all too accurate. The world's climate could soon resemble the urban smog shown in the popular science fiction movie Blade Runner, suggests a report by UN scientists working for the Intergovernmental Panel on Climate Change. The sort of chemical pollution which keeps the futuristic Los Angeles of the film in permanent, drizzling twilight, could actually spread across much of the northern hemisphere in the coming decades, warns the UN.
Technoir. DVD Times - Warner confirms Blade Runner DVD plans. Warner Home Video have confirmed their plans for Ridley Scott's long-awaited definitive version of Blade Runner with a recently issued press release detailing plans for two separate DVD releases, one later this year and another to follow in 2007.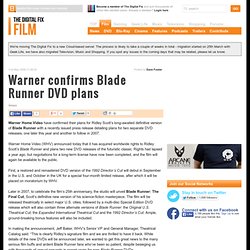 Warner Home Video (WHV) announced today that it has acquired worldwide rights to Ridley Scott's Blade Runner and plans two new DVD releases of the futuristic classic. Rights had lapsed a year ago, but negotiations for a long-term license have now been completed, and the film will again be available to the public. Undergroundfilm.org - Independent Movie Distribution. Films by Reggio. POWAQQATSI's overall focus is on natives of the Third World -- the emerging, land-based cultures of Asia, India, Africa, the Middle East and South America -- and how they express themselves through work and traditions. What it has to say about these cultures is an eyeful and then some, sculpted to allow for varied interpretations. Where KOYAANISQATSI dealt with the imbalance between nature and modern society, POWAQQATSI is a celebration of the human-scale endeavor the craftsmanship, spiritual worship, labor and creativity that defines a particular culture. It's also a celebration of rareness -- the delicate beauty in the eyes of an Indian child, the richness of a tapestry woven in Kathmandu -- and yet an observation of how these societies move to a universal drumbeat.
New Diggnation Intro! Diggnation: Don't Spread the Taco. Diggnation: The Friends Box. Baraka - a film by Ron Fricke, Mark Magidson, music by Michael Stearns, shot on 70mm film, contains time-lapse. Baraka is an incredible nonverbal film containing images of 24 countries from 6 continents, created by Ron Fricke and Mark Magidson, with music from Michael Stearns and others. The film has no plot, contains no actors and has no script. Instead, high quality 70mm images show some of the best, and worse, parts of nature and human life. Timelapse is used heavily to show everyday life from a different perspective. DVD Times - DVD News, Reviews and Features. 2 Guns DVD Video Review: Keiron Townend reviews the DVD release of this popular action movie.... Big Trouble In Little China. The Horror Channel.
Movies Unlimited. Glitterati Gossip. Peaceful Warrior In Select Cities June 2. An inspirational and triumphant film about the power of the human spirit, Peaceful Warrior is the incredible true story based on Dan Millman's bestselling novel. A gifted young athlete, bound for Olympic gold, Dan has it all: trophies, talent, and all the women he wants. But after a life-changing event, Dan comes to rely on Socrates (Nick Nolte), a mysterious stranger, and Joy (Amy Smart), an elusive young woman, to teach him the secret to overcome incredible odds and tap into new worlds of strength and understanding. Hailed by celebrities and critics alike, Peaceful Warrior is "an inspiring film that could change lives. " - Sting. CD WOW! - Welcome to CD WOW! DVD Audio Ripper - DVD movie soundtrack ripper, rip DVD audio to MP3. DVD Audio Ripper is a DVD audio extractor and DVD to MP3 converter to rip audio from DVD, rip home DVD sound to MP3, WMA, WAV, AAC, AC3, OGG, RA and SUN AU formats.
Using DVD Audio Ripper, you can extract DVD audio, rip home DVD movie soundtrack and subtitle to MP3 file and rip home DVD sound to WAV with complete sound effects. User Reviews. Brick. BRmovie.com - The Home of Blade Runner. Digital Spy - Latest showbiz, entertainment and media news. Untitled. The LEK. The Tim Burton Collective. DVD Easter Eggs & Hidden Secrets Revealed - DVD Dungeon.com. Films. Channel 4 Film - film reviews, dvd, cinema listings, interviews and clips. Kinski. 07.27.01 Rule The Planet. What Video and TV Online. Home Cinema Choice Online. Welcome to the OFFICIAL SITE of WIM WENDERS.
---