Corporate
How To: Become a Linux Netbook Power User - Page 1 | Maximum PC
So, the season of giving has just come and gone, and you've received a Linux-based netbook—the popular new class of ultra-cheap, ultra-portable computer. By definition, netbooks are very limited in what they can do; they're primary meant for accessing the web as well as some moderate office and multimedia use. Their low-speed processor and minimal memory means that they're just not suited for more intensive applications like gaming or video editing.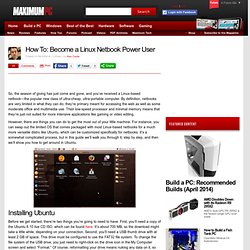 GE | Plug Into the Smart Grid
'Major discovery' from MIT primed to unleash solar revolution
In a revolutionary leap that could transform solar power from a marginal, boutique alternative into a mainstream energy source, MIT researchers have overcome a major barrier to large-scale solar power: storing energy for use when the sun doesn't shine.
BadCorp.org