Books_reading
Clarkesworld Magazine - Online Science Fiction and Fantasy : Issue 60. Reading. Library. Fiction. Guardian Unlimited: Arts blog - music: Which Hallelujah is the highest? Limas.
The Official Website of Tor and Forge Books. SIMPLEDEITIES.COM. Zero News Datapool, HAKIM BEY. Quotes from BOB BLACK'S review of T.A.Z., The Temporary Autonomous Zone.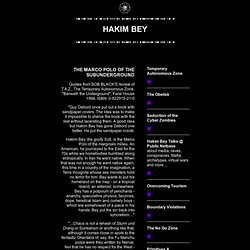 "Beneath the Underground", Feral House 1994, ISBN: 0-922915-21-0 "Guy Debord once put out a book with sandpaper covers. The idea was to make it impossible to shelve the book with the rest without lacerating them. A good idea but Hakim Bey has gone Debord one better. He put the sandpaper inside.
---